Happy Friday, everyone! At least, I think it's Friday. I've locked myself in the den this entire week because it's too hot to go outside, and—wait, wasn't I wearing these same shorts yester…anyway, my point is, sometimes the days of summer blend together.
I do know it's August, though, which means it's time for this month's Nerdy Special List. Here are the new releases we recommend.
From Jen at Jen's Book Thoughts:
Repo Madness by W. Bruce Cameron (Forge, August 23)

Ruddy McCann, the former high school football star turned repo man, returns in W. Bruce Cameron's humorous second book of the series. The voice of dead realtor Alan Lottner is gone, and McCann discovers he's lonely without the meddlesome spirit intruding on his thoughts.

So as the book opens, he's visiting mediums to try to reconnect with Lottner. While visiting one of these mediums, a stranger approaches McCann and shares information that shakes the very foundation of his existence.

The stranger bolts before McCann is able to learn who she is or how she came upon this information, leaving him stunned and full of questions. He knows he has to find the woman and uncover the truth.

Cameron takes McCann through a whirlwind adventure complete with quirky characters, murder-for-hire, and a love triangle. There's no shortage of laughs, and the plot is full of satisfying surprises.

Readers don't need to read the first book (The Midnight Plan of the Repo Man) to understand this new installment, but if you're considering reading both, definitely start with book 1. Going back after having read the second novel will spoil some of the fun twists of the first. I'm hopeful we'll see more of this series in the future because I have a bad case of Repo Madness.
From Rory at Fourth Street Review:
All the Ugly and Wonderful Things by Bryn Greenwood (Thomas Dunne Books, August 9)

Wayvonna Quinn was born in the back of a stranger's car while her parents hitchhiked across Texas. Eight years later, her circumstances have improved, but barely.

Now living in a dilapidated farmhouse, Wavy's trying to parent her infant brother. Her father runs a meth lab on the property and her mother barely functions. To say her life is difficult is an understatement. She is poor, abused, and afraid.

Then she meets Kellen. Kellen changes her life, they take care of each other—and care for each other, in a world that doesn't want them. Aside from Wavy's brother, Kellen is the only wonderful thing in her life. But when tragedy upends and exposes Wavy's family, her life looks ugly to the outside.

All the Ugly and Wonderful Things is an unexpectedly touching novel. Filled with tragedy and told effortlessly from multiple narrators, Bryn Greenwood's novel is one that will stick with me for a long time. It's a story that challenges the way you view the world.

As Wavy falls in love with Kellen, a man who is much too old for her, the novel needs to be read with empathy and understanding. Greenwood does not romanticize the relationship; she is not sentimental about Wavy and Kellen. Instead she presents their brutal, hard-won existence with an honest, straightforward appeal that is, well, very appealing. I sincerely hope readers give this one a chance. It's not an easy book to read, but it is worth it.
From Erin at In Real Life:
A Time of Torment by John Connolly (Atria/Emily Bestler Books, August 2)

I make no secret of my adoration of John Connolly's Charlie Parker series. Whether you're already a fan or the series is new to you, A Time of Torment is at once terrifying and comforting, a story that will, trite as this is, keep you up all night and stay with you long after.

Connolly's plots are nothing if not complex, and this one is no exception. It begins with a man who might or might not be a hero, having been recently released from prison, and the story proceeds to bring readers on a journey to a fictional town where evil is the primary currency.

Our uncompromising hero, Charlie Parker, is compelled to battle the malevolence that inhabits the hearts of some of the most fascinating bad guys ever written, and he's aided by sidekicks who get more interesting with each book. Connolly's prose is so vivid that it's hard to remember at times this book is fiction, because it feels as if you've been dropped into this world, and your only hope for survival is Mr. Parker himself.
From Lauren at Malcolm Avenue Review:
Behind Closed Doors by B.A. Paris (St. Martin's Press, August 9)

Grace can't believe her luck. Until she met Jack Angel, her relationships all fell apart over her devotion to her 17-year-old sister, Millie, who has Down syndrome. Not only does Jack have movie-star good looks and charisma to burn, he's crazy about both Grace and Millie.

After a whirlwind courtship, Grace and Jack are married and living the "perfect" life. But no one can see what's going on behind the closed doors of the dream house Jack built for Grace and Millie, and Grace begins to fear it wasn't luck that brought Jack into their lives.

Along alternating timelines, Grace and Jack's past and present unfold, winding together and building anticipation for a final confrontation. Paris does a good job explaining her characters' decisions, as irrational as they may be, which helps keep the narrative on track. Behind Closed Doors is a steam train of a psychological thriller that may keep you up into the wee hours.
From PCN:
The Last Days of Night by Graham Moore (Random House, August 16)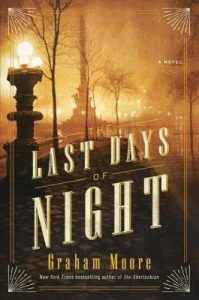 Let me start by saying I don't read much historical fiction or many books about science. And this is a historical novel about science. Why in the world did I even look at it, you ask?
Mainly because it's written by Graham Moore, who wrote The Sherlockian (read my review here) and the screenplay for The Imitation Game, both of which I enjoyed (you might remember he won the Oscar for the latter). And I'm so glad I picked this up. Because it's FANTASTIC.
It's a David vs. Goliath story of Paul Cravath, 26 and fresh out of Columbia Law, being hired by George Westinghouse to defend him in a lawsuit—make that 312 lawsuits—claiming Westinghouse's lightbulbs infringe upon an existing patent.
The opponent? Thomas Edison, who claims he invented the lightbulb and will crush anyone who tries to say otherwise.
Paul soon learns Edison's threats aren't idle, and all the young lawyer's clever legal maneuverings may not be enough for him to win in court—or even survive the fight.
The synopsis doesn't do this book justice, because in Moore's hands, this fact-based account comes alive. Moore transports you to a time when the world was on the brink of awe-inspiring discoveries. He entertains while making you feel smarter, and that's sexy.
News has just surfaced that Eddie Redmayne will star as Paul in the movie adaption, which is a great choice despite Redmayne being in his thirties. I can't wait to see who gets to play the inventor Nikola Tesla (a singular character who figures prominently) and everyone else in the story.
What are you looking forward to reading this month?