The official start of fall isn't until tomorrow, September 23rd, but the fall TV season has already begun. I love this time of year because there's so much new stuff to sample. I know most of it will be awful but I'm always hopeful. Below are first impressions of the new shows I sampled.
The X Factor
This show was a giant mess, including everything from a guy who made Paula physically sick with the sight of his penis, a 61-year-old woman wailing "I Touch Myself," and a 70-day-sober trash collector who performed a song he wrote called "Young Homie." That last one, Chris Rene, did a decent enough job to go through to the next round, but there were many moments during the show when I was bored out of my mind or horrified by what I saw and not in an entertaining way. The feud montage between L.A. Reid and Simon Cowell, showing them disagreeing on many of the wannabes, was ridiculous filler, trying to play up drama that isn't there. American Idol has many flaws, but at least that show doesn't give the singers backing tracks, nor does it allow them to sing entire songs when auditioning. When an act is obviously bad, like 70-year-old Dan and 83-year-old Venita giving new meaning to the word "unchained" in "Unchained Melody," they should be cut off after a few bars to prevent our ears from bleeding. Nerd verdict: X as in wrong.
New Girl
Zooey Deschanel is naturally quirky and likable, but the humor seems forced and, worse, not funny. Deschanel's character, Jess, actually makes her glasses pop up and down on her head and makes cartoonish noises to show how she's checking out a hot guy. Really? And her three male roommates would let her commandeer the TV for hours at a time to watch Dirty Dancing over and over? I don't think so. And I'm saying this as someone who also loves Dirty Dancing and once lived with male roomies. None of the guys seems very interesting—one shouts at women, another insists on removing his shirt, and the last is still moping over being dumped by his girlfriend. The funniest actor of the three, Damon Wayans, Jr., has been replaced since his series Happy Endings got picked up (that show is much funnier), which makes me even less interested in seeing future episodes. Nerd verdict: Not exciting or New.
2 Broke Girls
Kat Dennings is appealing as Max, the cupcake-making waitress, and Beth Behrs does what she can as Caroline, the rich girl whose Madoff-y dad turns her into a broke social outcast. It's not the actress's fault that Caroline is a little annoying, though I suspect she'll have more colors as the season progresses. Caroline supposedly went to Wharton so at least she won't be a dumb blond. The show is unremarkable, but it's helped quite a bit by Dennings's warm grounding presence. Nerd verdict: Girls should just have more fun.
Ringer
I read in Entertainment Weekly that this show was inspired by Blood Simple. Huh? The Coen brothers' movie was dark and so suspenseful, I left deep finger marks in the armrests of my chair at the theater. This show is melodramatic without even trying to play it as camp. That scene showing Bridget making the decision to assume her twin Siobhan's identity while saying in voiceover, "I had no choice!" was soapier than my Irish Spring.
And what's with the weird green-screen effect while the twins are in the boat right before Siobhan disappears? They're supposedly speeding along the water but the background looks about as realistic as the scenery through the back windshields of cars when people drive in old '40s movies. Sarah Michelle Gellar is watchable, but her costars haven't made much of an impression yet. Kristoffer Polaha, who plays Siobhan's lover, has never impressed me in anything so I'm not holding my breath for him to get interesting. Though the show is not really my style, it does have me wondering what the heck these twins are up to, so I might tune in again and fast forward through the cringy stuff to get to the answers. Nerd verdict: Needs more noir for viewers to Ring(er) twice.
Modern Family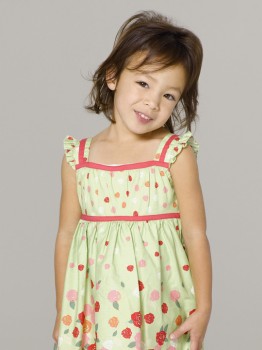 This is obviously not a new show (hooray for its Best Comedy Emmy!) but I wanted to check out the new Lily since Ella and Jaden Hiller were replaced over the summer by Aubrey Anderson-Emmons. Though I was a little concerned by how unresponsive the Hiller twins were to stimuli (at least on camera), I loved their stoic little trouper faces, as if they had to suffer the shenanigans of the silly adults around them. Now, Lily talks and smiles a lot more. At first, I thought Anderson-Emmons might be too conventionally cutesy, until the second episode when she turns into an infanticidal toddler, which is hilarious. Cam and Mitchell are thinking of adopting another child and Lily's not having it. Best line of the night came when Mitch asks Cam, "Why are you saying 'thing' instead of baby?" and Lily muttered from off camera: "Kill the baby." By the end of the two episodes, I was on board with this new Lily. Nerd verdict: Good for Lily to have more Family interaction.
Which shows have you seen? Got any favorites yet?