Went through the DVR again today and here's what I saw.
Prime Suspect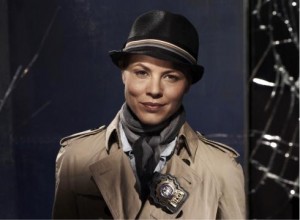 Phew, it's not terrible! I'm sure I wasn't alone in approaching this with trepidation. The original BBC version and Helen Mirren as DCI Jane Tennison had such a huge impact on me, how could this American adaptation measure up? By being a different show. After a few minutes, I stopped comparing the two and settled into appreciating Maria Bello's performance as New York homicide detective Jane Timoney. Bello is a ball buster and has the acting chops to make Timoney tough without looking like she's trying too hard. Bello's presence is strong enough that she'll elevate the show just by walking and talking.
It did seem anachronistic that the male cops in the precinct were so sexist toward her, insinuating that she slept her way onto the squad. What year is this? Granted, it's based on a show that first aired twenty years ago but this version is set in the present. Male chauvinists are probably still everywhere, but since Deputy Chief Brenda Leigh Johnson has been commanding a whole division of male detectives with respect on The Closer for years, the sexism felt like a step backward in time and not a very interesting source of conflict. Let's hope Timoney proves herself to them soon and that storyline can go away. Nerd verdict: Bello is in her Prime.
Person of Interest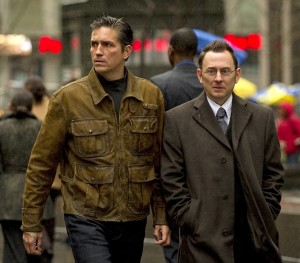 There are many impressive names attached to this show—Jonathan Nolan (Oscar-nominated co-writer of Memento and the Batman movies with his brother Christopher), Oscar-nominated Taraji P. Henson, Lost's J.J. Abrams and Michael Emerson, etc. But the MVP is star James Caviezel. He can be the most interesting person in a scene without saying anything. At the beginning of the pilot, his character, John Reese, is sitting on the subway looking like a homeless man, minding his own business when a bunch of thugs get on. Reese is completely still and may even be drunk or half asleep, but somehow Caviezel manages to exude an intensity that lets you know an explosion is about to happen. That intensity and stillness are what make him so riveting. His eyes are more expressive than his words sometimes, and when he does speak, it's often in low, soft tones that just make him more intimidating. The premise of two men having foreknowledge of crimes and teaming up to prevent them is different enough to make this show intriguing, and I hope the formidable Henson will get more to do in future episodes. Nerd verdict: Caviezel makes Person very interesting.
Charlie's Angels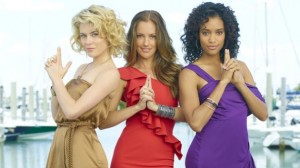 I don't know where to start with this one. The atrocious acting? Cheesy dialogue? Just overall what-the-hellness? The original was no masterpiece but it was campy fun. This one played it straight and was determined to give us one cringe-inducing moment after another. Worst offender was Ramon Rodriguez as Bosley. He must have gone to the Adam West school of acting because he kept pausing in weird places while saying his lines, as if he were waiting for his closeup before he would complete the dialogue. Minka Kelly has one facial expression and a monotone that indicated no emotional inner life. Rachael Taylor has the two most dreadful lines in the pilot: "We're angels, not saints," and "I didn't know my heart could hurt this much." I didn't know my head could hurt this much until I watched this show. Nerd verdict: Lifeless Angels.
Unforgettable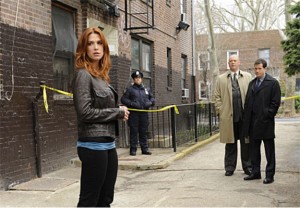 This is the type of show I'd probably watch if it were the only new programming among a night of reruns. Poppy Montgomery stars as Carrie Wells, a former NY cop who has HSAM—highly superior autobiographical memory—which allows her to remember everything she's ever experienced. Well, except who killed her sister when they were kids playing in the woods. Apparently the trauma is blocking her memory. Anyway, she helps solve the murder of a neighbor and it looks like she'll be back on the force by the next episode and working alongside her former flame, Detective Al Burns (Dylan Walsh).
Though Carrie's ability is unusual, this is a pretty standard police procedural, in which you can figure out who the villain is at the half-hour mark and aren't thrown by any of the red herrings. The pacing is somewhat slow and dreamlike, especially when she's revisiting her memories to bring up facts. Montgomery needs to relax into the role more; right now she's doing a lot of affected readings. The most interesting thing for me is that actress Marilu Henner is a consultant because she has HSAM (for more info, go here) and will be appearing on the show later this season as Carrie's aunt…who has Alzheimer's. Nerd verdict: Unforgettable's title is hyperbolical.
Did you watch any of these? What'd you think?