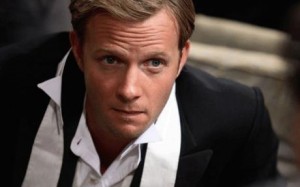 Several months ago, I was excited about news of British thesp Rupert Penry-Jones (MI-5) coming to our shores to do a Jerry Bruckheimer pilot. I got even more excited when ABC picked up the pilot to series. But then the bad news came: Penry-Jones and Reiko Aylesworth (whom I liked in 24) would be replaced. I was displeased but wanted to see who the replacements would be.
TVGuide.com reports today that, while Aylesworth's role hasn't been recast yet, Christian Slater is confirmed to take Penry-Jones's place. Whaa…?! On one hand, you've got a sexy and classically trained actor and on the other, you've got someone whose appeal I never understood even when his career was at its peak. Though I liked Heathers quite a bit, Slater drove me nuts with his Nicholson-lite poseur act. Last year, when he played a spy with a split personality on the NBC series My Own Worst Enemy, he couldn't make even one persona compelling enough to keep me watching beyond the pilot.
OK. Now that my rant's over, I think this may be best for Penry-Jones. Word is that the script was pretty weak and perhaps the actor (along with Aylesworth) was a scapegoat since ABC couldn't exactly fire Bruckheimer. Penry-Jones was also forced to speak in an American accent, which dulled some of his charm. Meanwhile, I've heard about another project which might be better for RPJ and allow him to retain his British accent.
Warner Bros. optioned for television a book called The Baker Street Letters (read my review here). It's about two British lawyers (and brothers) who move into Sherlock Holmes's address at 221b Baker Street and end up being amateur sleuths in Los Angeles after receiving letters addressed to Holmes from people asking for help. If Penry-Jones is still interested in working in America, he'd make an excellent choice as the suave older brother. It's free casting advice, WB, so call RPJ's agent and make it happen!