If you're looking for something good to read this weekend, check out the new Jack Reacher. My review originally ran in Shelf Awareness and is reprinted here with remission. Happy Friday!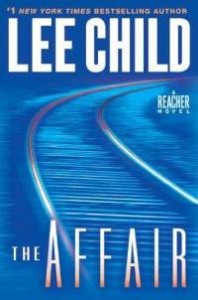 Ever since Jack Reacher hitchhiked his way into crime fiction in the 1997 novel Killing Floor, many fans have wondered why he became a drifter in his mid-30s after spending his entire life—born and raised—in the U.S. Army. The Affair finally details the case that prompted Reacher to leave the military police behind, if not his crime-fighting career.
It's 1997 and Reacher is sent undercover to Carter Crossing, Miss., to shadow the official army investigator in the case of a civilian woman murdered near a base. Reacher's role is to observe and make sure the situation is handled properly because of tension between the soldiers and the townies. Reacher realizes he's on a doomed mission when he discovers there have been three similar murders in the area and the army is ordering him to destroy evidence. He gets help from the lead investigator, Duncan Munro, and the beautiful sheriff, Elizabeth Deveraux, but can he trust either one?
The Affair is written in first person so readers really get a glimpse of how Reacher's mind works (some of the novels are written in third, which has its advantages, but this reviewer prefers the more personal treatment). The younger MP Reacher is not much different from the drifter we already know and love; i.e., he kicks butt and has sex. Readers are only reminded of the story's setting when VHS tapes and film cameras are mentioned. It's amusing to see the origin of Reacher's later traveling style when he goes undercover as a bum and learns he doesn't need anything more than a foldable toothbrush. Child also includes references to Reacher's brother, Joe, that will lead up to the beginning of Killing Floor. Newbies can start their affair with Reacher with this latest installment, but those who have read the series may find poignancy in these foreshadowing allusions.
Nerd verdict: Reach for The Affair
Buy it now from Amazon
| Buy from an indie bookstore
What are you reading?