I took advantage of the long Columbus Day weekend to park myself on the couch and catch up on some reading, which was divine. Well, except for the part when I sat too long and my left arm felt numb and I feared I was having a stroke. Anyway, below are mini reviews.
Shock Wave by John Sandford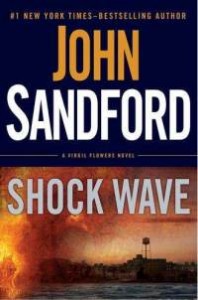 Someone in a Minnesota town doesn't want a new PyeMart superstore built so he/she blows up a conference room at the store's headquarters and then its construction site. Virgil Flowers, an agent with the Minnesota Bureau of Criminal Apprehension, gets sent in to investigate two possible groups—local business owners who'd be ruined by the store, and fishermen who fear PyeMart would pollute the river. The heat intensifies when more bombs go off, including one that's too close to Virgil.
This is my first time reading a Flowers book and I found him engaging. He's a surfer dude who's not only offbeat in his personal style, he uses unusual methods to solve the case. He does market research to find suspects, sending out a survey to a cross section of townies asking them who they think the bomber is. The dialogue is often funny, which is especially welcome since the crimes are brutal and cause multiple fatalities. The revelation of the bomber's identity didn't cause any shock waves, but the book is a quick, entertaining read. Nerd verdict: Catch the Wave.
Buy it now from Amazon
| Buy from IndieBound
Call Me Princess by Sara Blaedel
Copenhagen detective Louise Rick is called in when a woman is savagely raped after a date with a man she met online. Louise soon discovers he's a serial rapist, preying on lonely women on matchmaking websites while remaining maddeningly elusive. He leaves behind no physical evidence and the victims can't provide a good description for the police to issue a public warning. The case becomes even more complicated when one of the rapist's victims dies and Louise's best friend Camilla starts dating a man she found online.
Louise seems capable enough for the most part—this also applies to Blaedel—and the procedural moves along at a decent clip until the anticlimactic denouement falls apart from too many holes. Louise doesn't take certain actions that a good police officer, or any reasonable civilian, would. It seems that some things occur because they're necessary to move the plot forward but aren't supported by logic. Some of the best thrillers I've read this year are Scandinavian—I highly recommend Jussi Adler-Olsen's The Keeper of Lost Causes and Lars Kepler's The Hypnotist—but this one, an international bestseller that's second in the Louise Rick series and first to hit our shores, doesn't hold up. Nerd verdict: Dropped Call.
Buy it now from Amazon
| Buy from IndieBound
The Last Letter from Your Lover by Jojo Moyes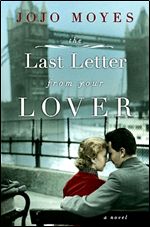 What? I know this isn't crime fic, but I'm a multifaceted person with many interests, one of which is the art of writing letters. I'm old-school that way and enjoy sending handwritten notes whenever I can. I go into stationery stores to fondle Crane paper and drool over fountain pens. But enough about that.
This novel is divided in two parts. The first takes place in the 1960s, with Jennifer, a young married woman, waking up in a hospital with injuries and amnesia. When she goes home, she finds passionate love letters, signed simply "B," hidden in her belongings. Though her husband seems like a nice man, she knows instinctively he didn't write the letters and she sets out to find the person who did. She unearths some answers, but they're not happy ones. Cut to 2003, when a young journalist named Ellie finds a file full of the same letters in the archives of the newspaper where she works. With her job and love life on uncertain ground, she decides she must solve the mystery of what happened to the lovers.
Usually, if I get a whiff of a cheesy romance, I'm outta there, burning skidmarks in the parking lot. But if a story is skillfully told and a relationship depicted well, I'm all in. Moyes writes the love letters with just the right touch of ardor without going over the top into eye-rolling territory. B's letters read like a man wrote them, with words conveying more emotion than any emoticon ever could. Moyes makes this clear when Ellie gets texts from her married lover and spends hours obsessing over what "Later x" really means.
The author somehow manages to make me not condemn the adulterous Jennifer—no small feat—without conveniently portraying her husband as a creep. Ellie's a bit frustrating, though, with her neediness toward a married lover who is a jerk. But she redeems herself, and the ending carries enough emotional weight that all is forgiven. Nerd verdict: Emotional Letter.
Buy it now from Amazon
| Buy from IndieBound
What are you reading?