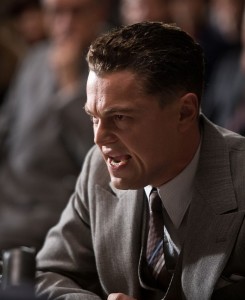 The problem with biopics is, even if the subject is someone who led an extraordinary life, it rarely translates into riveting drama when the film compresses that whole life into two hours. It becomes a laundry list of "this happened, and then this happened, and then this…," sucking all the significance out of each event.
Clint Eastwood's J. Edgar, in limited release Nov. 9 and opening wide Nov. 11, stars Leonardo DiCaprio in the titular role, playing the first director of the FBI from about twenty years old to his death at the age of 77. It encompasses his rise from being a fresh-faced Justice Department employee to being appointed the sixth director of the Bureau of Investigations (precursor to the FBI), trying to solve the Lindbergh baby kidnapping case, keeping secret files on high-profile public figures such as Eleanor Roosevelt and JFK, lobbying for a centralized database of fingerprints to be used for identifying criminals, etc. Yes, he accomplished a lot during his years in office, but the way Eastwood handles these proceedings isn't that exciting cinematically. DiCaprio narrates over some of the scenes, which enhances the soporific effect.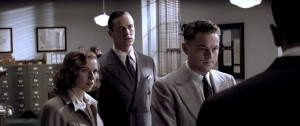 The movie does wink at the rumors that Hoover was a cross-dresser, though the incident is given an emotional context and depicted in an unsensational way. J. Edgar also covers his relationships with the three most important people in his life—his mother (Judi Dench); his secretary, Ms. Gandy (Naomi Watts); and his right-hand man, Clyde Tolson (Armie Hammer). DiCaprio, who did Q & A after the screening, says his extensive research unearthed no evidence the two men were ever lovers, but the script by Dustin Lance Black (Oscar winner for Milk) posits there was deep love between them.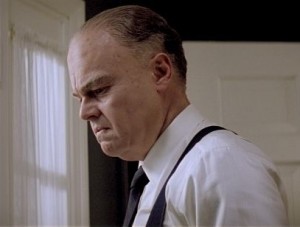 DiCaprio does a commendable job, able to emote even through all the old-man makeup. He's not content to let it do the heavy lifting for him—he changes his voice, posture, and gait as Hoover ages, slowly eliminating all traces of his own blue-eyed heartthrobness (he wears brown contacts).
Watts is wasted in an underdeveloped role that hardly requires her to use any of her considerable skills. Her scenes consist mostly of her taking dictation and carrying out other administrative duties. Ms. Gandy worked with Hoover for fifty-four years and was the one he trusted with his confidential files, but the movie reveals nothing about her personal life or emotional makeup to explain why she remained dedicated to the capricious Hoover for so long.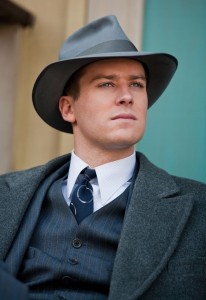 The heart of the movie is provided by Hammer, who confirmed for me, after his underrated work in The Social Network, that he's an exciting young actor to watch. As the Winklevoss twins, he was macho and hotheaded; as Tolson, he's a refined gentleman whose eyes visibly soften from the first moment he lays them on Hoover. Hammer doesn't do anything overt to suggest Tolson's sexuality; his performance is more affecting for the restraint, the little gestures that allow us to fill in the rest. It's obvious Hammer has leading-man looks, but it's his range that indicates he might have a career in movies almost as long as Hoover's in the FBI.
Nerd verdict: J. Edgar ho-hum
Photos: Warner Bros.