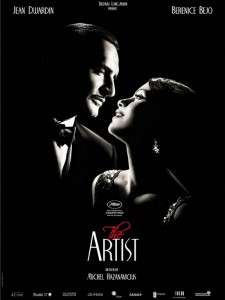 In the past five days I've seen eight movies, most of them considered Oscar contenders. I loathed a couple, liked a few, but there's one that I'm passionate about, a film I can unequivocally get behind when the awards race heats up: Michel Hazanavicius's The Artist (out 11/23).
When I told a friend I was going to see a silent, black and white French film set in 1920s Hollywood during the transition between silent movies and talkies, she joked that she'd fallen asleep while I was describing it. Normally, I might have been snoozing right alongside her, but this was the most buoyant, unique, and charming film I've seen in a long time. If that's not enough, it features a really cool Jack Russell terrier who should get an award for best supporting dog.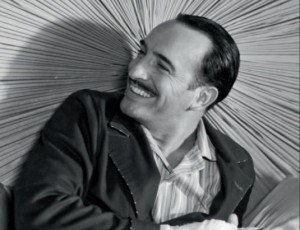 The film opens in 1927, with silent movie star George Valentin (Jean Dujardin) at the height of his popularity. At one of his premieres, he literally bumps into one of his fans. They mug for the cameras and she ends up with her picture on the front page of Variety but remains a mystery woman. Turns out she's an aspiring actress named Peppy Miller (Bérénice Bejo) and the two meet again when she gets a bit part in his next movie. The chemistry between them is potent, but the friendship stays platonic as George remains faithful to his wife despite their unhappy marriage.
As the story moves forward into the next few years, George's fame starts to wane when he resists the advent of talkies, while Peppy becomes a sensation by embracing the new technology. But she never forgets the man who gave her valuable advice at the beginning of her career, watching over him even when he thinks he's lost everything, and eventually helping him find his way back to what he loves most.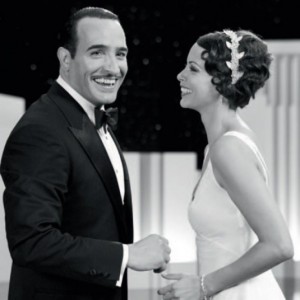 Now comes the part when I unleash a bunch of glowing adjectives to convince you to see the movie. Writer/director Hazanavicius has created a lovely valentine to the cinema, showing the heart and sometimes heartbreak behind the magic we see on screen. His cast is led by the exuberant Dujardin as Valentin—he deservedly won the best actor award at Cannes this year—and the captivating Bejo as Peppy. They spark together, managing to convey first attraction and then something much deeper, all with minimal physical contact and no dialogue.
The supporting players include John Goodman, James Cromwell, and Penelope Ann Miller, but the standout has to be Uggie, the dog who plays Valentin's loyal companion on screen and off. He's a combination of Asta and Lassie, accomplishing feats both clever and heroic.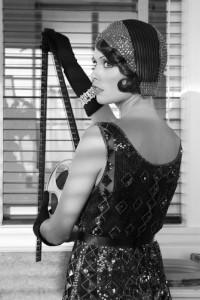 The period costumes by Mark Bridges are gorgeous (Bejo's nightgown is glamorous enough to wear to an awards show), composer Ludovic Bource hits all the right notes with the score, which is even more important in conveying the tone in the absence of dialogue, and DP Guillaume Schiffman makes everything look stunning in black and white photography. Every aspect of this movie is a delight, and not only did I not fall asleep, I left the theater feeling revived and, well, peppy.
Nerd verdict: A delightful, creative Artist
Photos: The Weinstein Company
Note: If you're interested in hearing the stars speak about the movie, check out this video of the Q&A they did after the L.A. Times Envelope screening I attended. Bejo spoke fluent English but Dujardin brought an interpreter. He also claimed he didn't speak "American dog" well enough to communicate with Uggie during filming but helped things along by carrying sausage in his pockets.