It's ironic that a movie about the wonderment of movies lacks that very quality overall, but that's the case with Martin Scorsese's Hugo, based on Brian Selznick's Caldecott Award-winning novel, The Invention of Hugo Cabret. The adaptation is certainly stunning visually, especially in 3D, but comes across at times as mechanical as the clocks it features prominently.
The story centers around the orphaned Hugo (Asa Butterfield), who secretly lives at a train station in 1930s Paris, taking over his alcoholic uncle's job of winding the clocks when the uncle (Ray Winstone) dies. He also assumes restoration duties on a broken "automaton"—a kind of robot with exposed gears—that he and his late dad (Jude Law) had been fixing up; he believes it holds a message from his father. Hugo has to do all this away from the eyes of the station inspector (Sacha Baron Cohen), whose mission in life is keeping the train station clear of thieving urchins and throwing them into orphanages.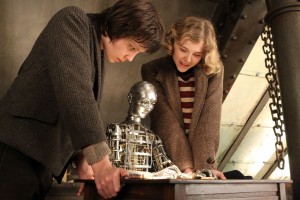 Hugo's lot vastly improves once he befriends Isabelle (Chloe Grace Moretz), a bookish girl who helps smooth out relations between Hugo and her godfather, the grumpy toy-shop owner (Ben Kingsley) whose whimsical things and magic tricks fascinate Hugo. The boy in turn introduces Isabelle to his love of cinema, inherited from his father, and the two find that their purpose in life might be intertwined.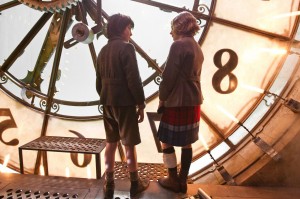 The cinematography by Robert Richardson and production design by Dante Ferretti are undeniably magnificent. I'm not a fan of everything being turned into 3D, but when it's done right, as it is here, it's a visual treat. An opening sweeping shot that takes viewers from a snowy Parisian landscape through the bustling train station up into the clock tower is breathtaking, as are the recreated sets and scenes from real, early twentieth-century films (don't want to spoil whose old movies they are). There's a glass studio in particular and shots viewed through an aquarium that do evoke wonder.
Wish I could say the same for the emotional aspects of Hugo. It's about the love of cinema and books, two of my favorite things in the world, so it's disappointing that it fails to resonate deeply with me. Despite the many clocks keeping time on screen, the movie's pacing is off, dragging in the beginning and often indulging in beats between dialogue that felt unnecessary. Scorsese (look for his cameo in the movie) obviously loves his subject matter but is almost too reverential, too intent in crafting a perfect film in all areas but the heart.
Butterfield, with his big Elijah Wood-y blue eyes, is competent if not a little stiff, and Moretz, speaking in a British accent (the cast is mostly British, though the characters are French) seems affected, her smiles a bit too forced. Oddly enough, the earnest-girl persona doesn't fit her nearly as well as the dark, dangerous characters she plays in Kick-Ass and Let Me In. It feels like she's reining in all the edginess that makes her interesting to watch.
Kingsley saves the day, however, as the toy owner with the mysterious past. The only moving moments for me came near the end, when he delivers lines that landed right smack in my chest because they come from such a deep place for his character. Kingsley speaks them simply, without theatrics, providing real magic, not just an illusion.
Nerd verdict: Hugo is visually stunning, but not well-calibrated emotionally
Photos: Paramount Pictures