When I'm not blogging here, I'm A) goofing off, B) running with bears, or C) writing for Criminal Element and Shelf Awareness. If you're not stalking me on the Internet, here are helpful links to recaps and commentary I did for CE of Whitechapel's season one—episode one, two, and three (there are only three eps per season). It's a dark British crime drama starring Rupert Penry-Jones (MI-5) and Phil Davis about detectives trying to catch a Jack the Ripper copycat. Season two just started last night on BBC America, with the detectives chasing killers emulating the Krays.
I'm also posting, with permission, my following review that ran on Shelf Awareness for Readers last Friday. If you haven't started this series, now's the time to jump in.
Hell & Gone by Duane Swierczynski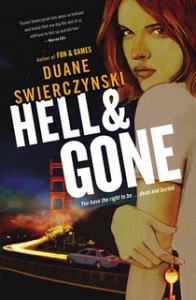 Many people use "hell" as a simile, but Duane Swierczynski uses it almost literally to describe the place where most of the action takes place in Hell & Gone, the second installment in the trilogy that started with Fun & Games. Charlie Hardie is kidnapped by the nefarious Accident People—killers who make their hits look like accidents—and sent deep underground to run a prison that supposedly holds the world's most dangerous criminals. Life is hell in a place with no windows or sunlight, but if anyone tries to escape, everybody dies. Things turn topsy-turvy when one of the prisoners, a gorgeous woman, says she didn't do anything wrong, that she was looking for Charlie when she was abducted and ended up there. The guards had warned Charlie about how she can mess with people's heads, so who—and what—should he believe?
Like the previous book, the pace here is unrelenting. The story takes many bizarre turns, but Swierczynski is inventive enough to keep readers from guessing where it's headed. Poor Charlie can never get a moment's respite from the craziness around him, a situation whose purpose he still doesn't understand, much less his role in it. It's difficult to see "Unkillable Chuck" weakened by injuries he sustained during his first encounter with the Accident People and the mysterious medical procedures they inflict on him at the beginning of this novel. He does get to strike back in the end, though his actions don't achieve all the desired results. It's okay, because Point & Shoot is yet to come next March. And if the cliffhanger is an indication, the finale promises to be out of this world.
Nerd verdict: Hell for Charlie; fun for readers
Buy it now from Amazon
| Buy from IndieBound