I've seen so many movies lately and am so behind on reviews that I realized the only way to get them done is to write mini ones. Today's batch:
Mission: Impossible—Ghost Protocol (Dec. 16)
I didn't like the last one and wasn't over the moon about the first two, so it was a pleasant surprise to find myself having a lot of fun watching #4. Director Brad Bird (The Incredibles), in his live-action debut, has revived the franchise and made it exciting. This time, the mission is to prevent nuclear war, but it's really just an excuse for some nail-biting action. Standout scenes include a chase—on foot and on wheels—in a sandstorm with no visibility, Ethan Hunt (Tom Cruise) climbing the tallest building in the world in Dubai, and a fight inside a parking garage where Hunt does something insane with a BMW. The supporting actors—Jeremy Renner, Paula Patton, and Simon Pegg—are not your cookie-cutter action stars. They bring a little humanity to their characters, with Pegg providing the humor. But this is Cruise's movie, and he shows he's still vital. There's been talk of him passing the torch to Renner, but after this, I think Cruise should keep leading the IMF team, at least for a couple more missions. Nerd verdict: Accept this Mission.
Carnage (Dec. 16)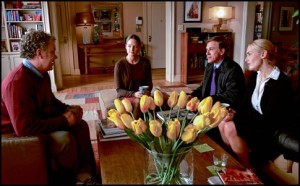 The entire movie, based on Yasmina Reza's play God of Carnage, takes place in one afternoon in one location—the apartment of a couple whose young son has been hit by a classmate. Jodie Foster and John C. Reilly play Penelope and Michael, the parents of the "victim," and Christoph Waltz and Kate Winslet are Alan and Nancy, whose son is the aggressor. The four start out politely trying to negotiate how they should deal with the incident, but the gathering slowly devolves into a nasty session of finger pointing, name calling, and literal projectile vomiting. Roman Polanski gets solid performances out of all four actors, but the problem is none of the characters is very likable. Watching it is like being at a really uncomfortable tea party. Alan can't stop yapping on his cell phone, Michael turns out to be a boor, Penny is uptight, and Nancy is high-strung. When they start yelling insults at each other, I just wanted to leave the room. Nerd verdict: Carnage is emotional road kill.
Young Adult (Dec. 9)
Charlize Theron stars as Mavis, a YA writer whose maturity level seems stuck in adolescence. After she gets a baby announcement from her high school boyfriend, Buddy (Patrick Wilson), she returns to her hometown in Minnesota determined to win him back. Who cares if he's married to a sweet woman (Elizabeth Reaser) and just became a father? Mavis is gorgeous and they once had a connection so she's certain he should be with her. Theron, directed by Jason Reitman, goes balls to the wall with the emotionally screwed-up Mavis (who might also be alcoholic), and her refusal to ask for the audience's sympathy is impressive. I've always thought Theron a gutsy actress and this might be her gutsiest performance, playing an ugly character without the help of prosthetics like in Monster. But Mavis is inaccessible, partly because she has no character arc. She learns nothing from her experiences so what is the point of our taking this journey with her? So we can laugh at or feel sorry for her? That's the last thing she would want. Nerd verdict: Adult more cringeworthy than puberty.