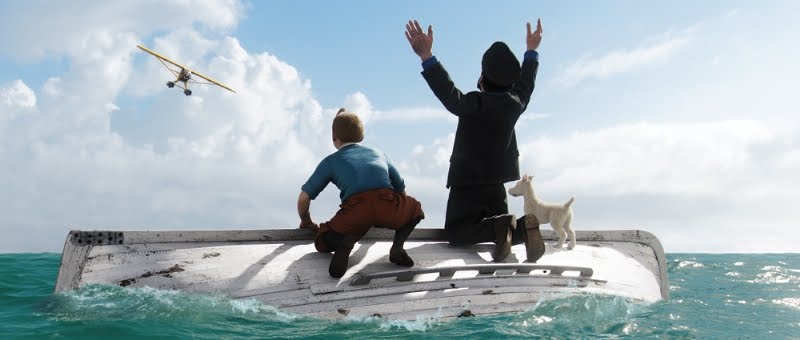 Today I'm discussing The Adventures of Tintin with my regular contributor Eric Edwards. This is partly because I wanted someone else to do half the work, but also because I thought another point of view from someone who's less a rabid fan of Hergé's work would be valuable. Since Eric attends many of the industry screenings I do, he was the perfect victim.
Tintin, directed by Steven Spielberg, is based on the popular-in-Europe series of comic books about the intrepid boy reporter and his trusty canine companion, Snowy. The movie borrows plot points from a few of the books so a lot happens, but it boils down to Tintin (voiced by Jamie Bell) meeting Captain Haddock (Andy  Serkis), and their chasing an archenemy (Daniel Craig) and buried treasure across different countries via boat, plane, and motorbike.
Pop Culture Nerd: I thought this was well made in many ways but it feels like a kids' movie because the humor is broad and the characters are caricatures. Ironically, Tintin seems more three-dimensional in the books to me, whereas he's kind of bland here.
Eric Edwards: The books were pretty flat to me, but Hergé always managed to work in a little bit of wit that was missing here. For example, Snowy had thought bubbles in the books and his banter with other animals was hilarious.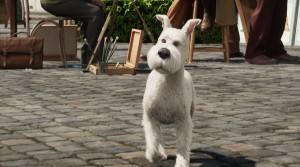 PCN: That's a good point. Snowy's personality is much sharper on paper because we can tell what he's thinking. He's feisty and funny.
EE: In the movie, he's really only allowed to be cute.
PCN: Spielberg said in this L.A. Times article that Snowy was the reason he decided not to do this in live action: "There was too much demanded from the dog and the risk was too high to go with dog trainers and several look-a-like dogs." I wish he'd talked to the person who trained Uggie for The Artist and then tried the live-action route.
EE: Yeah! Uggie could do lots of stuff!
PCN: Snowy issues aside, what'd you think of this movie overall?
EE: I found it underwhelming because I need to relate to the protagonist, but Tintin's too much of a Boy Scout and everyone else is an oaf and the villain is just evil. Some of the chase scenes were pretty cool, though.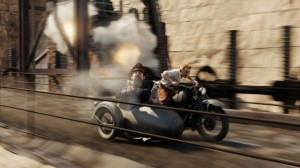 PCN: Yeah, especially the sequence when they're chasing that bird in the motorcycle and sidecar. That was wow-inducing and justified seeing the movie in 3D. The motion capture has come a long way…
EE: Their eyes are much more alive.
PCN: Yes. No more creepy Polar Expressions. The animation is really well done. Some of the vistas are gorgeous.
EE: It was so real that it became unreal, because it's almost too perfect. Like in the desert, I don't know if you can find sand that clean and pure.
PCN: Let's talk about the score.
EE: It didn't stand out for me.
PCN: It was a lesser imitation of the Raiders theme in some parts. I noticed similar notes and rhythms. John Williams went for rousing but didn't quite get there.
EE: Speaking of Raiders, I don't understand why people are comparing this to that. I don't think it's worthy in any shape or form.
PCN: I think it's apples and coconuts. Raiders was for adults. It had Nazis, romance, violence (remember propeller guy?), mysticism, melting faces. This movie, while respecting the source material and being fairly faithful, seems more directed at kids. Adults can still enjoy it, but I hope they check out the books afterward, for themselves and their children.
Nerd verdicts: PCN—Tintin more 3D on paper, EE—Tintin isn't gold.
Art: WETA Digital Ltd.