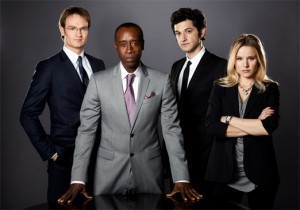 Sunday night brought two anticipated TV debuts, but after I saw them, I was ready for them to go away. Showtime's House of Lies starred Don Cheadle as Marty Kaan, head of a team of management consultants. He's a slut, having casual sex with various women in the pilot, including his ex-wife, and a shark at work, landing a big account with a bank by telling top execs how to make themselves look good publicly while still taking fat bonuses and screwing the little people. Despite Cheadle's charm, Kaan is so slimy, I couldn't root for him, especially when he's hitting on one of his team members, Jeannie, played by Kristin Bell. The erstwhile Veronica Mars doesn't have much to do yet except resist Kaan's advances, but even if the role gets meatier, I probably won't be around to see it. Nerd verdict: House of sleaze.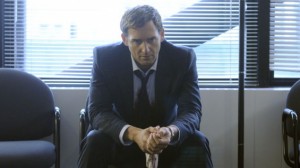 The other show was NBC's The Firm, taking up the story ten years after the events in the movie starring Tom Cruise as Mitch McDeere. Josh Lucas has taken over the role and boy, is he bland. I never thought I'd say, "I miss Tom Cruise." He can be intense, while Lucas just looked frazzled and couldn't hold my interest for two hours. So I can't give it a verdict, because I bailed after about forty-five minutes, but that alone is a sign that—its title aside—the show didn't hold up well.
Did you watch either? What did you think?