It's ridiculous how much I anticipated Revenge's return tonight. When it debuted last fall, it was the show I was least interested in watching. It had a generic title and marketing campaign, which didn't make it clear why the girl in the thorn dress was out for revenge.
But I like to sample everything, and just like potato chips, I couldn't stop at one episode. This thing sucked me in and next thing I knew, I was chatting up strangers at the supermarket and—gasp!—teenagers at the movie theater, saying, "Oh my gosh, slutty FauxAmanda needs to go away!" and "I can't stand Tyler!" and "Can they please get rid of stupid Declan and annoying Charlotte?" I make my friends watch it, I've recommended it to my sister-in-law who's on maternity leave, even Mr. PCN watches it with me.
If you haven't tuned in yet, here's the basic stuff you need to know. Emily VanCamp plays Emily Thorne, who arrives in the Hamptons and immediately takes up with Daniel, the handsome son of Victoria and Conrad Grayson, prominent figures in the social scene. Thing is, Emily is actually Amanda Clarke, who lived in the area as a little girl with her father, David, who was framed by the Graysons for a heinous crime and sent to prison, where he was killed. With the help of local rich boy Nolan, who knew her dad and remains loyal to him, Emily/Amanda is out to take down all the people responsible for ruining her life.
The word I hear most often about this show is that it's addictive. All the nasty twists and turns, fabulous clothes, and bad people getting what they deserve add up to a satisfying hour every week that usually leaves me wanting more. The MVPs are undoubtedly VanCamp, nimbly switching between blond innocence and dark avenging angel, and the gorgeous Madeleine Stowe, who has mastered the art of smiling sweetly at people while her big soft brown eyes say she wants to stab them in the face. And Joshua Bowman, the British actor who maintains his American accent well as Daniel, has surprised me. I was prepared to hate his character but Bowman, with the help of the writers, has made Daniel quite likable, if a bit clueless about his friend Tyler.
**Spoilers if you haven't seen the latest ep**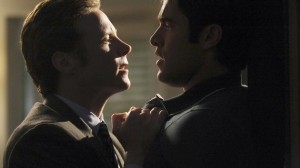 Ah, Tyler (Ashton Holmes). I don't love to hate him, I don't love anything about him, I just hate his ass. I detest his skeevy, two-faced, blackmailing ways and hope we won't see him again anytime soon after he got hauled away by his brother. I am a bit disappointed he didn't actually shoot somebody, though, before Jack and Daniel tackled him. There were a few characters around that dinner table I wouldn't mind seeing eliminated—namely Declan (Connor Paolo), Charlotte (Christa B. Allen), and the useless party planner, Ashley (Ashley Madekwe). She should be killed just for entertaining the idea of Tyler as a boyfriend.
Oh well, I can't have everything, but I would like to see the following happen as the show moves forward:
Emily using some of her ninja training. When Nolan mentioned that she held back her inner ninja during the gun situation, I shouted at the TV, "Unleash it!" There are certainly plenty of people who deserve a good whupping, and I thought Victoria's divorce lawyer, who was involved in the frame-up of David Clarke, was going to feel some pain from Emily after the way she looked at him when she recognized him.
Ashley either contributing something valuable to the show or leaving the Hamptons. She showed a nasty side recently and I thought she was going to team up with Victoria against Emily, but she's slipped back into uselessness, lurking in the background looking pretty and not doing much else. She did throw a snippy remark at Emily last night—"Empathy. You should try it sometime"—but it's still not clear why she hangs around when Victoria treats her like a doormat and she can't even pull off one stinkin' event without some disaster happening. "Hey, come to the party I organized and you'll get a gun pointed at your head! Or see yourself on video confessing your most embarrassing secrets to your shrink!" How does this girl keep her job?
More people who were directly involved in the David Clarke situation destroyed. In the beginning, Emily took out a person a week, and while I'm glad the show expanded beyond that formula, we haven't seen anyone taken down in a while.
Tyler staying away permanently. The story is not about him. He's just a distraction.
Jack realizing that FauxAmanda is not the girl he fell in love with years ago. If love is a chemical reaction, and he didn't feel it with FauxAmanda when he first met her, wouldn't that clue him in that something's not right?
What would you like to see happen? Are you sucked in by this show yet? If not, go here and get caught up now!
Photos: Top two—ABC/Colleen Hayes; bottom two—ABC/Carol Kaelson