I usually DVR the show so I wouldn't have to watch commercials, but for once, I thought I'd try watching it live (it started at 5 p.m. PST) and blog my reactions to it without thinking about it too much. This is not comprehensive, since there were many moments about which I had nothing to say (I usually zoned out whenever anyone read from a sheet of paper). For the rest, here goes: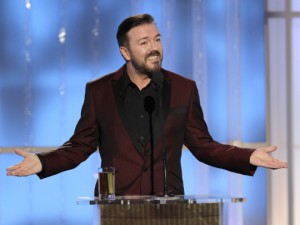 5:02 After coming out and saying, "So, where was I?" Ricky Gervais's statement that "the Golden Globes are just like the Oscars, but without all that esteem" made me chuckle.
5:03 Gervais says the Hollywood Foreign Press Association gave him a list of things he couldn't do: "No profanity. That's fine; I've got a huge vocabulary. No nudity. See, that's a shame 'cause I've got a huge…vocabulary, but a tiny penis." Haha! Way to make fun of yourself first, Ricky.
5:05 Talking about Bridesmaids, he said, "The girls finally proved that they could be as raunchy as the men—farting, burping, cursing, performing wild sex acts, even pooping in the sink. I actually heard, for research, the cast spent the weekend with Dame Helen Mirren. She's dreadful…off the rails." Ooh, I'd love to spend the weekend with Helen Mirren. Who wouldn't?
5:07 Love that Gervais put first presenter Johnny Depp on the spot by asking him if he'd seen The Tourist. Depp: "No."
5:09 Depp reads nominees for best supporting actor in a motion picture. We all know it's going to be Christopher Plummer. Yup, no surprise. Yay! Cosmo (the Jack Russell terrier who plays Plummer's character's dog in the movie) gets a shout-out in his thank-you speech!
6:00 Seth Rogen comes out to present with Kate Beckinsale and says, "I'm Seth Rogen and I'm trying to conceal a huge erection right now." Gross. No one wants to hear or think about that.
6:01 So happy for Michelle Williams winning best actress in a comedy or musical film! The movie is neither comedic nor musical, but who cares? She's magnificent as Marilyn Monroe and the race really shouldn't be between Meryl and Viola. Love how she thanked her daughter for enduring months of bedtime stories being read to her by Williams in a Marilyn voice.
6:07 It's the battle of the huge dresses between Sarah Michelle Gellar and Piper Perabo. "My dress is bigger than yours. Give me your lunch money!" Gellar may have slayer skills but I think Perabo takes this one since her dress can be used as a parachute.
6:08 Peter Dinklage wins best TV supporting actor for Game of Thrones. He shared that his mother said, "Have fun, but have you seen Mildred Pierce? Guy Pearce is really good and he's going to win." He thanks moms for keeping us humble. Aww. As if that weren't sweet enough, he says he's anxious because it's his new baby's first night with a sitter, then he mentions he's been thinking about someone named Martin Henderson and tells us to "Google it" as music plays him off the stage. Here's what he was talking about. Henderson's story is quite sobering.
6:22 It's cute how Felicity Huffman and William H. Macy sang while presenting best supporting TV actress, but why? It's not a musical category.
6:45 Matt LeBlanc wins for playing himself on the comedy series Episodes! Well, a version of himself. The LeBlanc in the show wouldn't win a Globe.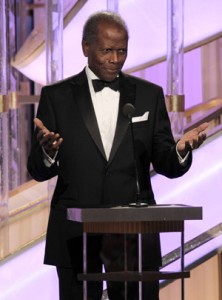 6:57 Sydney Poitier comes out to present Cecil B. DeMille award to Morgan Freeman and gets a standing O. Wow, he can sure rule the room. Love Morgan, but I may have to take a food break since these tributes run forEVAH. Oh wait, Helen Mirren! My goodness, is there no end to her amazingness? Hmm. That Driving Miss Daisy joke about driving on the wrong/right side of the road is kind of bombing but she's so sassy, she's making it work. She and Freeman should do more movies together! Oh my gosh, why is he taking a bubble bath in a casket? That clip is so weird and great!
7:11 Scorsese wins best director for Hugo. No! Wrong!
7:19 Modern Family wins best comedy series. Sofia Vergara and co-creator/exec producer Steven Levitan get to make the acceptance speech, with Vergara speaking in Spanish and Levitan "translating." Here's what she said, according to him: "Thank you to the Modern Family writers, who are so funny and so sexy. Film actresses, do yourselves a favor…and give them your phone numbers. They may look pasty and nervous and out of shape, but they're the best lovers I've ever had. Seriously." No idea what Vergara really said, but would love to know, especially since she made repeated references to presenters Antonio Banderas and Salma Hayek.
7:23 Yay, Michelle Pfeiffer! She's introducing a clip for War Horse. Producers, please employ her more.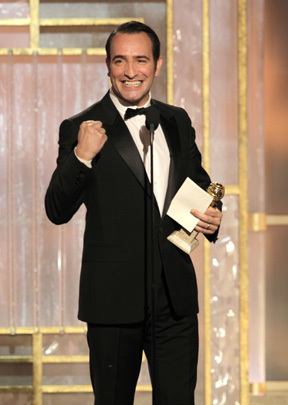 7:25 Oh dear, Jessica Biel's dress makes her look like she's wearing soap bubbles after stepping out of the bath. Her pronunciation of Jean Dujardin's name is perfect, though. And he wins best actor in a comedy or musical film! Not a surprise, but still fun, since we'll get to hear him talk. He says an agent once told him his face is too expressive, too big, and that he'd never be able to do film [where reactions are more intimate]. It's a good thing Dujardin proved that agent wrong, because his face is what makes The Artistwork. It's so expressive, no words are needed to indicate what he's feeling. Oh, love how he ended the speech with a silent bit!
7:34 Gervais introduces Colin Firth by rattling off his attributes—Oscar winner, beloved by women, etc.—but then says what we don't know is that Firth is "very racist…also, I've seen him punch a little blind kitten." Not gonna work, Ricky. We still love him.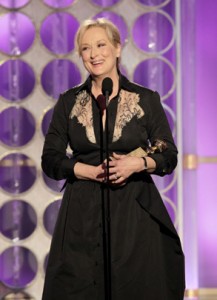 7:35 Meryl Streep wins best dramatic film actress for The Iron Lady. Oh, goodness, what in the world is she wearing? Mr. PCN says she looks like she's dressed for a hoedown. She begins her speech by saying, "When Ricky Gervais's deal fell through and it came to me to play Margaret Thatcher…" Ha! And then she got bleeped for saying "shit" when she realized she didn't bring her glasses on stage.
7:41 The Artist wins for best comedy or musical film, and Uggie takes the stage with the creative team! He's doing tricks and everything! I felt a little bad that he was pulling focus from producer Thomas Langmann, who was trying to give a heartfelt speech involving his late father, but how often do you get to see a dog accept a Golden Globe for best picture?
7:50 As expected, George Clooney wins best dramatic movie actor. He goes from graciously paying tribute to his buddy Brad Pitt for his performances and humanitarian work, to thanking Michael Fassbender "for taking over the frontal nudity responsibility that I had." He also tells Fassbender, "You can play golf…with your hands behind your back." That's the umpteenth penis joke tonight. I think this is the most phallic Golden Globes ceremony in recent memory.
7:56 The Descendants wins best picture drama. I'm good with that, as long as The Artist takes the top prize at the Oscars next month.
For a complete list of Globes winners, go here. Here's my fashion commentary. What did you like or dislike about the show?