This originally ran in Shelf Awareness and is reprinted here with permission.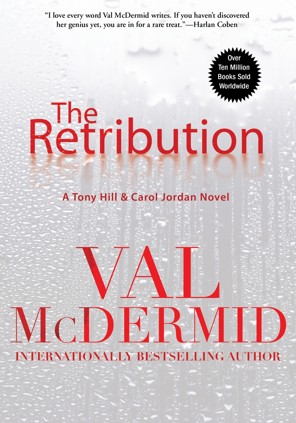 For her seventh thriller featuring profiler Dr. Tony Hill and Detective Chief Inspector Carol Jordan, Val McDermid unleases not one but two serial killers. The first, Jacko Vance, is their worst nightmare from the past, someone they put away years ago in The Wire in the Blood. Vance escapes from prison and is hell bent on, well, retribution. Jordan and Hill have to predict and protect the people, including each other, they feel are most in danger, but Vance seems to be several steps ahead of them. Meanwhile, they also have to hunt another killer doing grisly things to prostitutes. The cases are solved in the end, but Hill and Jordan experience unfathomable loss along the way, and their relationship, as well as their lives, will never be the same.
As usual, McDermid doesn't flinch from exploring the dark passages of humanity, if one can even call the killers human. Vance does something so revolting at one point that my stomach dropped to the floor, as if I were in an elevator plunging into hell. But McDermid's deft prose, sprinkled with psychological insight and sparks of wit, makes it hard to turn away. She also keeps the pace humming along, which helps since a lot happens. The ending is a bit anticlimactic, and the story could probably do with less of Hill's internal monologue about how much he cares for Jordan—a point that's repeatedly and clearly established—but McDermid has thrown such huge obstacles into the pair's already rocky path that it'll be interesting to see where they go from here.
Nerd verdict: Gut-wrenching Retribution