I entered everyone's names into Random.org and it selected the following 5 to receive an Elvis Cole Detective Agency business card signed by Elvis's and Joe Pike's creator, Robert Crais:
Rich Miner
Shell Sherree
Kelly V
Paulette
Rhonda Hicks
Congrats! Please use this contact form to send me your address and I'll get this in the mail to you. If I don't hear from you by Saturday, Feb. 4, noon PST, alternate winners will be chosen.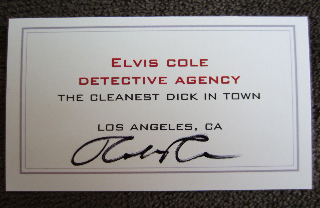 What? That slogan came straight from Elvis himself.
Thank you to everyone who entered. If you've attended a signing then you already know this, but if not, Robert has been sharing on his tour some of your assumptions of him and getting big laughs from the crowds. I'd also like to share that Taken will debut on the New York Times bestseller list at #1 for the week of February 12! I assume he's pretty happy about that!