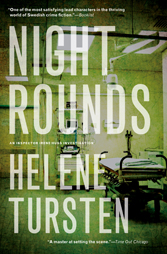 Despite the title and the fact much of this novel concerns nocturnal activities, I wouldn't recommend reading Helene Tursten's Night Rounds (Soho Crime, Feb. 14) at night if you're afraid of ghosts. As I went along, I wasn't sure if I was imagining noises and things in the dark, just like the characters do in the book. Or do they?
One night the power goes out at an old rundown hospital in Göteborg, Sweden. During the blackout, a surgical patient dies when the machinery stops working, a nurse is found murdered, and another goes missing. A witness is adamant that she saw the murderer—a former employee named Nurse Tekla. Problem is, Nurse Tekla has been dead for sixty years, though legend has her haunting the hospital because she committed suicide there. Is there a ghost on the grounds? What does it have to do with the very real bodies that start piling up? Detective Inspector Irene Huss returns in this series' second installment to investigate, and discovers that the recent killings are somehow connected to the hospital's troubled history. And while most things aren't as they seem, the truth could also be exactly what you think it is.
The novel was translated from its original Swedish version by Laura A. Wideburg, and contains some of the odd syntax I've come to expect from translations of Scandinavian mysteries. But this doesn't detract too much from a solid police procedural with an undercurrent of creepiness. DI Huss, a third dan black belt in jujitsu and married mother of two teen girls, is an appealing character who keeps her head in tense situations, and makes witty observations about herself and the people she encounters in her investigation.
For example, she meets a witness who has a sallow complexion and a penchant for beige clothing. As they turn toward automatic doors to enter a building, "Irene imagined that the sensor wouldn't react to such a colorless woman and the doors wouldn't open." After meeting the gorgeous young wife of the hospital's head doctor, Irene briefly considers getting a facelift before deciding it's "[n]ot a good look for a criminal inspector. You probably shouldn't go around with a face that said, 'Really? You don't say!' every time you visit the scene of a crime or bring a suspect in for questioning."
Tursten also issues harsh words against government systems that allow mentally ill homeless people to fall through the cracks, she exposes the misogynism that exists on the police force, and condemns zealots who resort to violence to support a cause (veganism, in this case). The Scandinavian crime novels I've read often seem to include this kind of social commentary, which gets woven into the plot in such a way that doesn't make it feel too didactic. Bottom line, this is an engrossing whodunit that kept me up late into the night, leaving a chill on my skin as if touched by a ghost.
Nerd verdict: Night chills
Buy it now from Amazon
| Buy from an indie bookstore