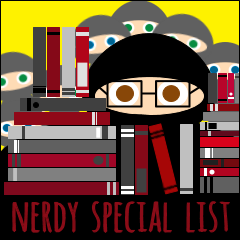 September is finally here, which makes me happy, because fall is one of my favorite seasons, though it's been ridiculously hot, so I may have to wish winter would hurry.
It didn't help at all that our A/C broke over the long weekend, and I walked around here like a sweaty zombie, too heatstroked to form cohesive thoughts or sentences.
But I did manage to read a little, and am finally able to function well enough to post this month's Nerdy Special List. Here's what my fellow book bloggers and I recommend this month.
From Jen at Jen's Book Thoughts:
The American Way of Poverty: How the Other Half Still Lives by Sasha Abramsky (Nation Books, Sept. 10)

This powerful nonfiction look at poverty in the United States should be required reading for every American citizen. We've created a culture that blames the poor for their situations, when in fact many, if not most, have been powerless to battle the forces that pushed them below the poverty line. Working one's way back up and out of poverty is becoming more and more impossible in this country.

Sasha Abramsky looks at those forces, the systems we have in place that are failing miserably, the myths about poverty that many of us have been conditioned to believe as truths, and he also looks at how we can work to change the devastating momentum. The first and most important step is educating people about the truths of poverty. This book is a good first step. Abramsky's passion for this subject will not only open readers' eyes, it will motivate them to work for change.
From Julie at Girls Just Reading:
Songs of Willow Frost by Jamie Ford (Ballantine, Sept. 10)

I've been waiting for this book since I finished Hotel on the Corner of Bitter & Sweet, and let me tell you, it doesn't disappoint. Mr. Ford has a way of painting the setting so vividly that you feel transported to that time and place. It envelops you.

William is a character you cheer for from the beginning, along with his best friend, Charlotte. You want them to succeed on their adventure and to find answers. This isn't a book that will leave you feeling happy, but it is a book that makes you believe in forgiveness and hope. Fans of historical fiction will want to read it.
From Rory at Fourth Street Review:
The Thicket by Joe R. Lansdale (Mulholland Books, Sept. 10)

"I didn't suspect the day Grandfather came out and got me and my sister, Lula, and hauled us off toward the ferry, that I'd soon end up with worse things happening than had already come upon us, or that I'd take up with a gun-shooting dwarf, the son of a slave, and a big angry hog, let alone find true love and kill someone, but that's exactly how it was."

I imagine it's rare that a story can be summed up by its opening line, but Joe R. Lansdale does just that in his darkly comic new novel. The Thicket is a wonderful, bizarre story with East Texas roots, and enough humor to take the edge off his typical darkness. There are gun fights, torture scenes, whorehouses, and humor. In this part Western, part coming-of-age story, none of the characters remain unscathed, but the battle might produce a loyal hero or two. This book is bloody, funny, and, at times, brilliant.
From PCN:
I wanted to feature a smaller book, something you may not have heard of, but I found several September releases underwhelming, so I'll just cheat and point you toward the latest Jack Reacher adventure, Never Go Back by Lee Child, which Delacorte Press released yesterday, Sept. 3.
Reacher finally makes it to Virginia to meet up with Major Susan Turner, the woman with the alluring voice with whom he had long conversations back in 61 Hours. I don't have to tell you much about it, because Reacher fans will snap it up anyway, right? Did I tell you I'm suffering from heatstroke, which I'm using as an excuse for not writing a more detailed blurb? It's Jack Reacher. Enough said.
Hope you find one of these titles enticing. What are you looking forward to reading this month? (Check out past Nerdy Special Lists here.)