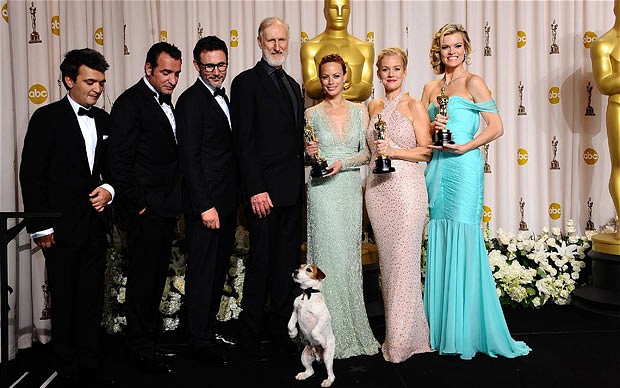 When I first heard Billy Crystal named as host this year, I thought it was a very good choice. He's one of very few hosts who can improvise and riff on unexpected moments that occur during the show. But then a friend of mine who went to the rehearsals told me the skits were boring and the banter dull. So I approached the show with somewhat lowered expectations but ended up enjoying it quite a bit, definitely much more than last year's ceremony.
First, the winners in some of the major categories:
Best Picture: The Artist
Best Actor: Jean Dujardin, The Artist
Best Actress: Meryl Streep, The Iron Lady
Best Supporting Actor: Christopher Plummer, Beginners
Best Supporting Actress: Octavia Spencer, The Help
Best Director: Michel Hazanavicius, The Artist
Best Original Screenplay: Woody Allen, Midnight in Paris
Best Adapted Screenplay: Alexander Payne, Nat Faxon, and Jim Rash, The Descendants
(For a full list, go here.)
Some of the highlights:
Funniest but least helpful focus group: Christopher Guest and Co. as an early focus group, giving feedback on a test screening of The Wizard of Oz. Favorite comments were Catherine O'Hara's complaint about the use of little people to play munchkins (she thought they were kids): "You hire all these children and little people when there are plenty of capable, full-sized men out in the bread lines still." Jennifer Coolidge chimed in with "there's lots of ugly faces in this film, lots of elevator faces, faces that look like they were caught in an elevator, smushed together, hatchet faces, long chins…I've never seen so many unattractive people."
Most inclusive thank-you: The sound editing duo of Philip Stockton and Eugene Gearty, for Hugo, who said, "I'd just like to thank everybody who is here tonight, and everybody who isn't, and everybody who's ever been born, or may be born or be born again or reborn. If I've forgotten anybody then you probably know who you are."
Best live special effects: The Cirque du Soleil performance. I'll take them over lame musical numbers any day.
Funniest reality check: Chris Rock on why "I love animation. You could be anything you want to be. You're a fat woman, you can play a skinny princess. If you're a short wimpy guy, you can play a tall gladiator. If you're a white man, you can play an Arabian prince. And if you're a black man, you can play a donkey or a zebra."
Randiest presenter: Melissa McCarthy, doing a take on her Bridesmaids character by coming to Crystal's dressing room in a robe and asking him, "How about we make this dressing room an undressing room?"
Longest wait for an Oscar: Christopher Plummer's. The 82-year-old actor started his acceptance speech by addressing the Oscar: "You're only two years older than me, darling. Where have you been all my life?" He continued, "When I first emerged from my mother's womb, I was already rehearsing my Academy thank-you speech."
Best quip after a boring speech: After Academy president Tom Sherak gave his obligatory dull remarks, Crystal said, "Thank you for whipping the crowd into a frenzy."
Funniest improvised bit from a winner: The Descendants' co-writer Jim Rash (who also plays Dean Pelton in Community), striking the same pose as Angelina Jolie when she came out to present his award.
Most exciting moment for a Flight of the Conchords fan: When Bret McKenzie won best song for "Man or Muppets" from The Muppets. Who knew half of that brilliantly goofy duo would one day be an Oscar winner? He said, "I grew up in New Zealand watching The Muppets on TV. Never dreamed I'd get to work with them. I was genuinely starstruck when I finally met Kermit the frog, but once you get to know him, he's just a normal frog. And like many stars here, he's a lot shorter in real life."
Most, ah, interesting way of presenting awards for the short films: Kristen Wiig and Maya Rudolph making double entendres about the shorts, though Rudolph claimed they were talking about movies, not "wieners." Wiig: "See, I'd rather have a short film with some heft that's nice to me, rather than a long film that just lies there and makes you do all the work." Rudolph: "But sometimes a film can be too long." Wigg: "Not for me, not for me."
Goofiest running gag: The Scorsese drinking game that the Bridesmaids ladies started at the Golden Globes, in which if someone says the director's name, they have to drink. The best part was Scorsese's delighted but completely befuddled reaction, having no idea what was going on.
Presenter who best managed to make scripted bits seem funny and sincere: Colin Firth, who presented the best actress award. When paying tribute to Meryl Streep, he said, "Mamma Mia! We were in Greece, we danced, I was gay, and we were happy." He also told Michelle Williams she was his mentor on the movie they did together (A Thousand Acres), and that he aspired to be like her "even though you were 12 and I was 35."
After the show, a friend of mine who was at the Oscars called and sent over a couple of fun photos she took. She said Octavia Spencer decided her clutch was too small so she also carried a giant handbag with her.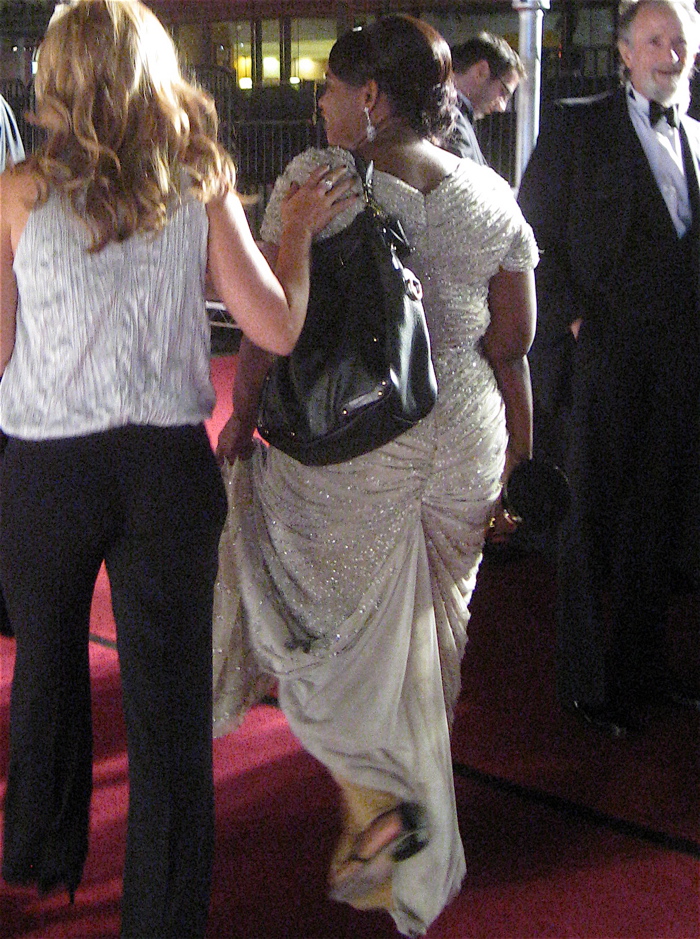 My friend also caught Kenneth Branagh photobombing John Corbett and his longtime partner, Bo Derek.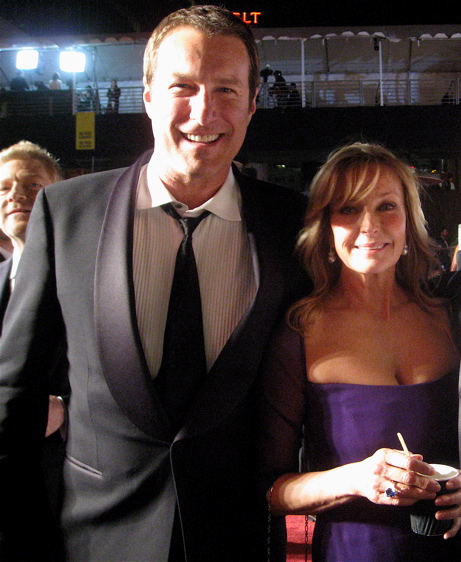 What did you think of the show? Favorite bits? Parts you hated? For my fashion roundup, click here.
Photos: The Artist cast/Ian West/PA; Cirque du Soleil/Kevin Winter/Getty Images; Angelina Jolie-Jim Rash/Entertainment Weekly; Rose Byrne & Melissa McCarthy/Kevin Winter/Getty