OK, so you've read what I thought were highlights from the show, but what you really want to know about is the fashion, right? Let's do a rundown of the beautiful, the bad, and the bland:
1. Meryl Streep. She fittingly came dressed like an Oscar, but the dress was ill-fitting. You can even see some kind of black undergarment peeking out from the right side of her chest. The queen of cinema should be decked out in a much better gown than this.
2. Angelina Jolie. This black velvet dress looked too heavy for a warm sunny day. I have no idea why she kept posing with her leg sticking out like that, but it now has its own Twitter account.
3. Viola Davis. The dress was pretty but the color of her hair clashed with it.
4. Berenice Bejo. Speaking of strange hair color, her new carrot top didn't do her any favors. And her gown was kind of frumpy.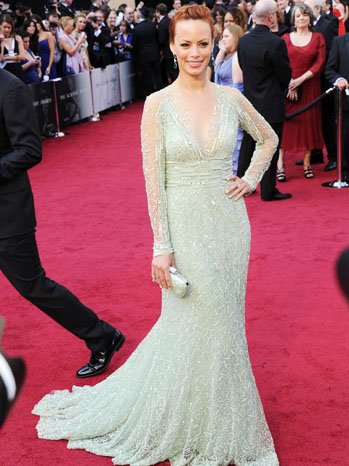 5. Rooney Mara. This is droopy and sad.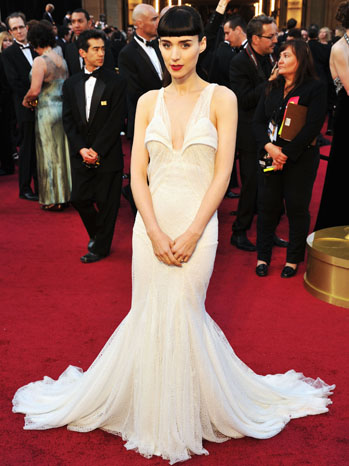 6. Natalie Portman. The polka dots made it look more like a casual summer dress than a formal gown.
7. Michelle Williams. If it didn't have all that frou-frou action around the waist and hips, this would've looked much better.
8. Jessica Chastain. This reminds me of drapes or bed covers at a hotel.
9. Jennifer Lopez. This dress isn't something I'd wear, but she looked striking in it. Don't like that tight, gigantic bun on top of her head, though. A softer upsweep might have been more romantic.
10. Judy Greer. I like the slinkiness of this, and the built-in optical illusion that makes the wearer look really thin (not that Greer needs that).
11. Kelly Osbourne. I have no words for this mess.
12. Emma Stone. She looked really pretty, until you realized the dress is a rip-off of Nicole Kidman's from 2007.
13. Penelope Cruz. The dress is bland, and her hair aged her by about twenty years.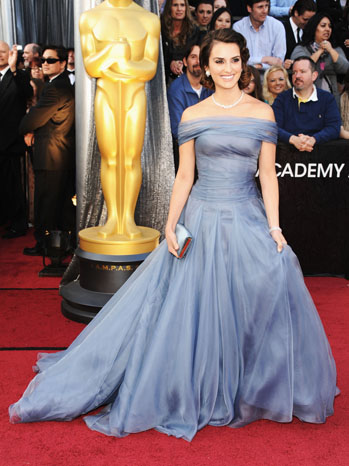 14. Christopher Plummer. His velvet tux jacket made him look dapper and put him in a league of his own.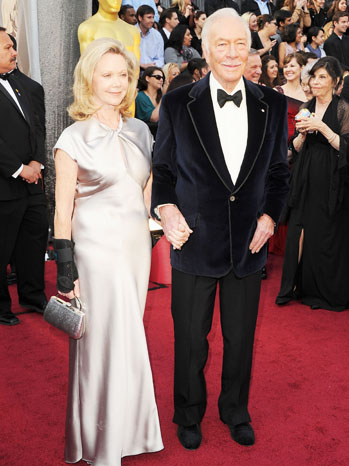 15. Louise Roe. I had no idea who she was before tonight (she interviewed stars on the red carpet for ABC), but her great look immediately had my attention. It's…business formal?
16. Gwyneth Paltrow. I saved the best for last. I normally loathe white dresses but this is sleek, fashion forward, and super(hero) cool. She has a cape! And a badass (bulletproof?) cuff! And with that, she rescued the red carpet from being an endless parade of safe, boring gowns.
Which gowns were your favorite?
Photos: Getty