This review originally ran in Shelf Awareness for Readers, and is reprinted here with permission.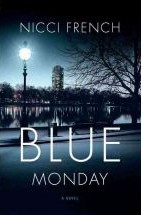 Nicci French's Blue Monday is the first novel in a new suspense series featuring Frieda Klein, an insomniac London psychologist who does her best thinking while taking long walks through city streets at night. She has a lot on her mind, including a patient named Alan Dekker who tells her he desperately wants a child—right before five-year-old Matthew Farraday goes missing from a local school. Alan wants a son who looks like him, with red hair and freckles—attributes Matthew happens to have.
Frieda takes her suspicions to the lead inspector in the case, and together they uncover perplexing similarities to the unsolved disappearance of a little girl twenty-two years earlier. How much truth is contained in Alan's desires and dreams? Should Frieda betray her patient to try to bring Matthew home?
Frieda makes a couple of leaps in reasoning that require suspension of disbelief, but the inner workings of the mind are mysterious, so anything is possible. The authors ("Nicci French" is a pseudonym for husband and wife Sean French and Nicci Gerrard) write in a cool, understated style befitting a protagonist who keeps her emotions at bay, and it works well for the story. Their restraint is helpful; the reader doesn't need all the horrific details of a child in jeopardy spelled out. But the story still manages to resonate, especially in its depictions of the families of the abducted children—the lack of closure tears them apart to the point their souls go missing, too. The dark ending also delivers a gut punch, taking Blue Monday a shade closer to black.
Nerd verdict: Mesmerizing Monday
Buy it now from Amazon
| Buy it from an indie bookstore