This review originally ran in Shelf Awareness for Readers, and is reprinted here with permission.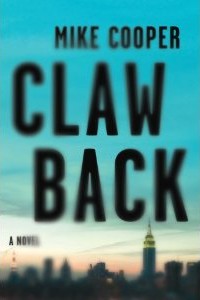 When Wall Street's worst-performing financiers start dying in suspicious ways, financial "consultant" Silas Cade—who happens to be a black ops vet—is hired by an investment banker to investigate. Are angry investors who lost their life savings targeting money managers? Clara Dawson, a fledgling financial blogger looking for a big scoop, wangles her way into Cade's investigation and soon gets caught up in the violence. Cade's role expands to protect her, as he discovers that greed has no boundaries, not even murder.
"Clawback" is a term used in the financial industry to describe cases in which a firm reclaims payouts that it's already made—or money managers agree to return dividends they've already received—to cover subsequent losses. Cade demonstrates the concept on one of his clients' investment bankers early in the proceedings. (Mike Cooper is a pseudonym for a former financial executive, who's also been published as a thriller writer under a different name.) Even with Cooper's explanations, some of the intricacies involved in investment strategies went right over my head, but the action was tight enough to keep me turning the pages. And there's humor in the scenario of nervous bankers packing heat to defend themselves, which doesn't bode well when they all get together for a fancy event.
Cade is a likable character with a wry worldview, though he's a little slow in figuring out some of Clara's motives and those of the people doing the—and making a—killing. Perhaps, though, this makes him more accessible than an infallible hero. The ending suggests he might have something in common with Jack Reacher and, like that character, Cade may not be such a loner when readers follow him to his next adventure.
Nerd verdict: An easy sell even for financial laymen
Buy it now from Amazon
| Buy it from an indie bookstore