Last year, I had the pleasure of interviewing Sophie Littlefield when she exploded into the publishing world with her debut novel, A Bad Day for Sorry, featuring her take-no-prisoners heroine, Stella Hardesty, illicit protector of abused women. Since then, Sophie's been blasting her way through Badass Town, racking up Edgar, Anthony, Macavity and Barry Award nominations faster than you can pump a shotgun, winning the Romantic Times Book Reviews Best First Mystery Award.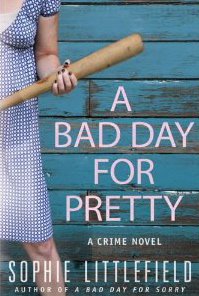 Today sees the release of Sorry's sequel, A Bad Day for Pretty, and I'm thrilled Sophie has agreed to another chat. Last time, she brought beer and fried chicken for everyone; this year she's giving away free books! (Details below the interview.)
PCN: How has your life changed since you became a published author last year? Do your kids have rock 'n' roll tees with your picture and tour dates on them?
Sophie Littlefield: Oh, PCN, you silly. My kids take pains every day to let me know that to them, I'm still the same old Mom they have always known and loved. They make sure I know I'm welcome to do all the same chores and errands I always did. At 9:45 p.m on a recent school night: "Mom, I need to you to go to CVS and get Wite-Out and those pretzels with the cheesy stuff. I'm kinda waiting for the new South Park to come on so I'll just stay here."
I've definitely been enjoying getting out and traveling a little more, though I was in Times Square a month ago, trying to hail a cab, when my cell phone rang and it was my son. "Mom? Lacrosse practice ended. Where ARE you?" I suggested he ask his dad, which got me an indignant "But Dad's working!"
PCN: I suppose you wouldn't want to respond you were also working on the streets of Times Square.
SL: Ha! No, probably not. There's been lots of glamour, too. I texted my daughter a snapshot from a dress-up awards banquet and she texted back "wht is goin on w ur boob?"
They're not really picking up on the whole "Mom's got a life now" thing, but there have been some sweet moments. Like when my last ARC of PRETTY vanished.  I was searching frantically for it when my son said, "Oh I gave it to this girl at school who had a seizure." I think what I love most about this story is that he doesn't even know her very well, but his first thought when he found out she had to go to the hospital for tests was "I know just what will cheer her up—a book about a vengeful housewife!"  (She's doing fine, by the way.)
PCN: I love that story! What has surprised you the most about your post-publication life?
SL: In all seriousness, it surprised me how right I was about something you and I talked about last year. Remember how I told you I was getting a lot of, erm, unsolicited advice on how to run my career?
PCN: Uh huh. And I instantly disliked the people giving it.
SL: Well, I stuck to my guns and did what I thought was best, keeping my fingers crossed, and in EVERY instance, going with my intuition turned out to be exactly the right thing to do. I'm not saying I have any answers for anyone else, but for me, trusting myself and my few carefully chosen advisors paid off.
PCN: Hooray! There's a line in Pretty: "The less a woman has to lose, the quicker you better get out of her way." At what points in your life have people had to get out of your way the quickest?
SL: For a long long time, no one had to get out of my way at all. I'd come upon them blocking my path…and I'd be all "Oh, I'm sorry, I'll just go around you and try not to make too much noise and can I make you some coffee while I'm here?" even if it meant a detour that cost me time, effort, even pride. I really, really wanted everyone to like me, too, and I allowed their censure or criticism to devastate me.
Then a few things happened. I got sorta middle-aged. Teenagers appeared in my house. A series of reversals required that I earn some actual cash. Suddenly I didn't have the time or patience to go around making sure everyone was comfortable and happy, that everyone's feelings were being taken care of, that everyone's slice of pie was exactly the same fucking size. Oh yeah, deciding my kids were old enough to hear the occasional cuss word might have been a part of it. Uh, that one kind of snowballed.
PCN: Will we ever see a prequel dealing with Stella living with her nightmare husband and leading up to the moment she snapped? I'd like to see how Stella became STELLA.
SL: Oh, wow! I never thought of that! I would have to wait for a day when I was having a "rage spike," and just channel it into the story. The only problem is that rather than being a nice "bondage cozy," it would be more like a Tarantino film, with those scenes where you're looking around the theater at the other folks wondering if it's okay that you just laughed or if you've just outed yourself as the kind of person who shouldn't be allowed around children.
PCN: We should go to movies together and laugh at all the wrong stuff! You've said Stella is a lot like you. Now that you're less frustrated with a thriving career, will Stella continue to mellow or will you have to dig deeper for her fury?
SL: It's kind of funny that everyone—all my pre-pub reviews—seems to agree that Stella is a lot mellower in Book Two. But they also seem to agree that's a good thing.  One reviewer said that dialing back the action somewhat allows the book to focus more on character development.
I've been telling my agent that once I'm raking in the big bucks and am missing that adrenaline surge from wondering when they'll be turning off the lights, I won't be able to write any more. Gotta stay lean and agile…
PCN: You're at least staying busy. Besides Stella, you've got a YA novel, Banished, coming out in October and Aftertime, a zombie post-apocalyptic story due in March next year, the first in a three-book deal. It's being published by Luna, Harlequin's sci-fi/fantasy imprint, so does that mean we're gonna see some zombie lovin'?
SL: Ahhh, those zombies! Folks either love 'em or hate 'em. I have to say that for me, they are merely an interesting way to introduce drama into a character-driven story.  (e.g. "I love you Maud," "I love you, too, Gerald-oh-my-god-what-is-that-thing-taking-a-bite-of-your-leg-aaaaahhhhhh!") In both my young adult and my Luna series, the zombie plot takes a back seat—a very far back seat—to the human drama.
In Banished, it has to do with growing up feeling isolated and alone, and what happens when you reach the brink of adulthood and you have to step up and face your fears while discovering who you really are.
In the Luna books, the post-apocalyptic world, with all of its challenges—yes, including creatures who want to eat you—is just a dramatic backdrop for a story having to do with loss, grief, and reinvention of the self. And there are some really hot ummm…love scenes, NOT with zombies because everyone knows that zombies don't have sex (S.G. Browne's wonderful Breathers notwithstanding).
PCN: I didn't know that! It would've been a great excuse when a friend asked me to play a hooker going oral on a zombie in his movie and I really, really didn't want to (I'm not joking and no, I didn't do it). What other genre-busting mash-ups would you like to tackle?
SL: Oh, PCN, have I told you about the collaboration I'm doing with Mr. Zombie Boy (aka Steve Hockensmith)? Steve is convinced that swamp creatures are the new black, and I've become laser-focused on Malcolm Gladwell's economic analysis. We're doing some awesome things with that, kind of a bayou-legend-meets-Tipping Point story with a lot of heart.
Alternatively, I have this insanely good idea for a book that I plan to start writing on January 1 of next year. I just get so excited thinking about it that I can barely get my trembling fingers to type words. It's something new and different and it's either brilliant or leaden and unreadable, I can't decide which.
PCN: I can't wait to see how these Frankenstein babies turn out. Now, "sorry" and "pretty" have had their bad days. What adjective is next in Stella's sights and when is that day happening?
SL: The next two Stella books are scheduled for spring 2011 and 2012. The third one's turned in and the fourth is "in development." As for titles…PCN, I have this great source who comes up with brilliant title ideas, but she demands secrecy. So let's leave the cloak of mystery unmolested, except to say that she is a lady of a certain age who may or may not have ties to the Polish mafia.
PCN: I normally enjoy molesting mystery cloaks but for you, I'll leave it alone for now. Thanks so much for chatting!
For more about Sophie, visit her website. Click on "blog" from her adult section (not THAT kind of adult) and you'll be directed to the 79 other sites she writes for. Her tour dates are here.
Now for the giveaway. Sophie has graciously offered to give away one paperback copy of Sorry and one hardcover of Pretty. The first name randomly drawn will get Pretty, the second winner will receive Sorry, both books will be signed. If you haven't read Sophie yet, better jump on the bandwagon now while there might still be room. Otherwise, you'll have to walk alongside and get kicked by the donkey pulling the wagon.
Rules:
be e-mail subscriber or Twitter follower (current subscribers/followers automatically get 2 entries; if you tweet about this, you'll get 3)
leave a comment about a bad day you had that ended up being pretty
have U.S./Canada address
Giveaway ends Monday, June 14, 5 p.m. PST. Winners will be randomly chosen via Random.org and announced here and on Twitter. Winners will have 48 hours to claim the prize before alternate names are chosen.
Let's get some pretty in here!