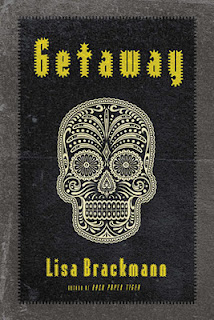 A couple of weeks ago, I went on a little getaway to Morro Bay on the central California coast. I packed too many books as usual, but the one I decided to read was Lisa Brackmann's Getaway (Soho Press, May 1), since the title is apropos.
The story begins with Michelle Mason vacationing in Puerto Vallarta, Mexico, after her husband dies suddenly. It's the last fling she'll enjoy before having to deal with the fiasco he had made of their financial affairs, something he had kept from her. She's losing her home and will have to get a job—why not have some fun first?
She hooks up with an American named Daniel and takes him back to her hotel. Two men break into her room in the middle of the night and hurt Daniel badly enough for him to be hospitalized. From there, she becomes entangled with Mexican cops, drug dealers, and a creepy guy named Gary who coerces her to spy on Daniel without telling her who either of them is. She can't leave the country until she does as Gary wants, but as her vacation quickly devolves into a nightmare, Michelle may not leave Mexico alive.
The novel is compulsively readable, with Brackmann keeping the pace tight and readers in the dark along with Michelle. The author also captures both the beauty of Puerto Vallarta—you can almost feel the sun and sand on your skin—and its sinister underbelly.
Michelle, however, is a frustrating heroine. She's mostly a passive character, reacting to events more than being proactive about getting herself out of the bad situation. This is understandable to some extent because her hands are figuratively and literally tied at times, but even when she does have a modicum of control, she still makes unwise choices. A party girl she barely knows asks Michelle to meet her at a seedy club late at night and Michelle goes, then gets in trouble when she leaves the joint much later because there are no more taxis running. Yes, she was hoping the girl had some intel for her, but perhaps she could've tried to negotiate a meeting time during the day? She also drinks too much when she knows she needs to stay clearheaded because her life might depend on it. Overall, though, Getaway is like a vacation fling—it may not leave a deep impression, but it's diverting enough while it lasts.
Nerd verdict: Diverting Getaway
Buy it from Amazon
| Buy it from an indie bookstore