Last Friday I did a post on the opening passages of the books I was reading. I received positive feedback from readers who enjoyed those glimpses so I decided to do it again this week.
When I receive ARCs, I go straight to the first paragraphs or pages before reading any of the accompanying press materials. Any book that begins with long descriptions of the weather or scenery usually goes in the donation pile. These are three openers that didn't mention trees or rain:
Afterwards by Rosamund Lupton, Crown, out April 24
I couldn't move, not even a little finger or a flicker of an eye. I couldn't open my mouth to scream.

I struggled, as hard as I could, to move the huge hulk that my body had become, but I was trapped under the hull of a vast ship wrecked on the ocean floor and moving was impossible.

My eyelids were welded shut. My eardrums broken. My vocal cords snapped off.

Pitch-dark and silent and so heavy in there; a mile of dense water above me.

Only one thing for it, I said to myself, thinking of you, and I slipped out of the wrecked ship of my body into the black ocean.

I swam upwards towards the daylight with all my strength.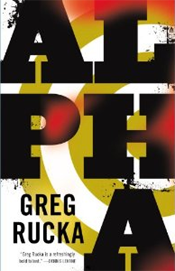 Alpha by Greg Rucka, Mulholland Books, May 22
Mario Vesques was sure he was going to make it, right up until he saw the knife in the dog's hand.

He had no idea where the blade came from; what he did have was just enough time to realize he was in trouble, and then the cartoon animal was lunging at him in a way that Vesques recognized, had seen before, but yet couldn't immediately place. Only as he got his left forearm up for a cross-block, felt the tip of the knife nicking skin as it split his sleeve, did it click.
What Comes Next by John Katzenbach, Mysterious Press, June 5
As soon as the door opened, he knew he was dead.

He could see it in the quickly averted eyes, in the small slump of the shoulders, the nervous, hurried manner as the doctor moved rapidly across the room. The only questions that immediately leaped to his mind were: How much time do I have? How bad would it be?
Based only on these opening passages, which would compel you to read further? Would you be interested in my doing this as a regular feature?
Happy Friday the 13th!