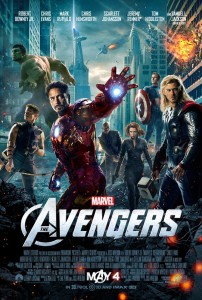 My greatest concern about having so many superheroes crammed into one movie was that it'd be a disjointed mess, but Joss Whedon has managed to justify—for the most part—each character's presence in The Avengers, and create a reasonably coherent summer blockbuster.
I'm not sure how important the plot is to you with this type of big action movie, but it involves Thor's brother, Loki (Tom Hiddleston), being hellbent on ruling Earth and stripping earthlings of free will. He's helped by a powerful energy cube called the Tesseract—also seen in last year's Captain America: The First Avenger—and the alien race called Chitauri. Nick Fury (Samuel L. Jackson), agent of S.H.I.E.L.D, manages to convince Black Widow (Scarlett Johansson), Iron Man (Robert Downey Jr.), Captain America (Chris Evans), Thor (Chris Hemsworth), The Hulk (Mark Ruffalo), and eventually Hawkeye (Jeremy Renner) to band together as The Avengers to fight the evil invasion. Much action ensues, with lots of special effects, especially if you see it in 3D.
One of the best things the movie has going for it is Whedon's trademark witty dialogue, with Downey Jr. getting the bulk of the funny lines, even though after a while, he does start to sound one-note with his endless snarky remarks. Ruffalo is my favorite movie Bruce Banner/Hulk yet. His soft-spoken manner contrasts nicely with his giant green angry guy, who has some funny scenes when he just won't take any more bullsh*t. And thanks to motion capture technology, Ruffalo actually got to play the Hulk, who resembles the actor in facial expressions and hair.
Johansson has one badass fighting scene (you've probably seen it in one of the trailers) and is quite effective despite being the most petite team member with no actual superpowers or fancy costume. Hawkeye doesn't get to do much, but Whedon does take him in an unexpected direction for the first half of the movie.
At two and a half hours, Avengers takes a little long to build up to the climactic battle, with a few pissing contests between the dudes before they agree to come together. And the finale looks a little like something from a Transformers movie, but these superheroes are a lot more interesting than robots, and with Whedon as their leader, they manage to save people's brain cells from exploding by delivering an entertaining popcorn movie that doesn't make you feel stupid.
Nerd verdict: Entertaining Avengers