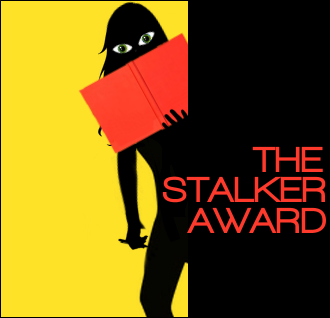 Since May is Mystery Month, it's time for the second annual Stalker Awards! I created these last year so that crime fiction readers at large can nominate and vote for their favorite novels and authors without having to be on special panels or belong to certain organizations. They're like People's Choice Awards except none will be given to Robert Pattinson or Justin Bieber. (See last year's winners here.)
The kind of rabid fandom those actors experience, though, is encouraged, because there can never be too much fainting around writers. The only requirement for you to nominate and vote is that you're passionate about crime fiction. These are called Stalker Awards because they'll be given to books you're obsessed about and the authors who write them. They're not called It-Was-Kinda-Interesting Awards.
How it'll work: I'll take nominations until 9 p.m. PST, Thursday, May 24, via the form below. Nominees must have been originally published in 2011. Please nominate THREE in each category, with #1 being your favorite, #2 your second favorite, and so on. This is to reduce the chances of a tie. If 50 respondents place 50 different titles in their #1 slot for favorite novel, for example, I'll look to see which titles also show up as #2 and #3 on people's lists to determine the highest vote getters.
You don't have to fill out all categories but if some are tough for you, perhaps you can discuss ideas with fellow genre fans. I hope the process will help you revisit the outstanding crime fiction you read last year or discover books and authors you overlooked. Any questions, leave them in the comments.
I'll announce the nominees on or around Tuesday, May 29, at which time you can vote on them and winners will be revealed first week in June. Spread the word, get your friends to participate, and let the stalking begin!
*Submissions are closed. See the nominees here.*