*SPOILERS AHEAD: Stop reading if you haven't watched the finale*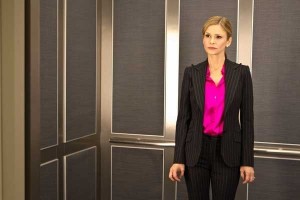 Going into the finale, the only things I hoped for were that Brenda wouldn't die in the line of duty, and that she'd leave with dignity, not disgrace. I got what I wanted, but still have mixed feelings about the episode. First, the good stuff: she finally gets to take down that nasty, sleazy Phillip Stroh! Oh, man, every time he shows his smug-bastard face, I just want to punch it really hard and then do it again at least seventeen times. Billy Burke owned that character. I feel better about Brenda's exit with Stroh behind bars, because if she couldn't take him down, who could?
The detectives giving Brenda a replacement bag filled with Ding Dongs was sweet, and it amused me to imagine which of the men went shopping for it (my bet's on Flynn or Sanchez). But then she said it "looks like love" and that's when I said, "Oh, nononono. Don't say that. We can all see it. Don't spell it out and make it corny." And then she said it again. (Series creator James Duff explains why in this interview: the line echoes her very first words in the pilot.)
I thought the kid, Rusty, making Brenda reevaluate her life was interesting, but after promising to look for his mother, she just foists him on Captain Raydor in the Major Crimes premiere, which is weird. Now he has to hang around so Raydor can show us a nicer, maternal side? Her taking him home, revealing that she'd raised two kids, letting him call her by her first name—it was too contrived and too much softening up all at once for me. That doesn't make her more compelling. I actually want to see her get angry more since she's always so steely and controlled. She lost it a little with Rusty at the station, and it was good to see her feathers can be ruffled, too. Mary McDonnell is a gifted actress and I have no doubt she's up to the challenge of playing the division's new leader. It's up to the writers to make Captain Raydor as complex and vital as Brenda.
Speaking of vital, the most appealing new series regular is Kearran Giovanni as Detective Amy Sykes, the ass-kissing addition to Major Crimes. Not only is the actress fun to watch, her character has possibilities of being unpredictable. For now, she's overly nice to Raydor, but admits to Provenza she behaves that way to further her career. How long before she decides she wants Raydor's job and stabs her in the back?
What did you think of the finale? Will you keep watching Major Crimes?
Photo: Karen Neal/TNT