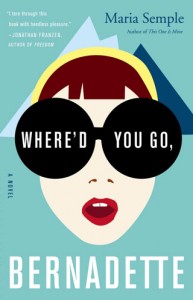 After I finish a book, I often need some time to process it before reviewing it. But then life sometimes gets busy and I don't get around to it and next thing I know it's seven months later and I can no longer remember details. So, even though I just closed the cover on Maria Semple's Where'd You Go, Bernadette, I decided to put down some quick thoughts before I forget.
When fifteen-year-old Bee gets a perfect report card, all she wants as reward is a trip to Antarctica. Problem is, her mother Bernadette is an agoraphobe lacking in social skills, and the pending travel increases her anxiety. One day, she disappears. Bee sets out to find her mother by piecing together clues from various people's notes, faxes, and emails, including Bernadette's to a virtual assistant named Manjula in India. Despite almost every one else—including her father—believing Bernadette will never return, Bee refuses to abandon her search, determined to go as far as the end of the earth if she has to.
Semple, a former TV writer who has written for Arrested Development and Mad About You, has an engaging, breezy style, but beneath the wit, the pain and complexities of life are evident. The characters aren't as they seem and things don't turn out as expected—people who behave atrociously are capable of doing the right thing, and decent people make mistakes. Though most consider Bernadette an enigma who might be mentally unstable, she is extremely sympathetic through Bee's eyes.
The circumstances surrounding the disappearance are complicated, but all Bee needs to know is that her mother loves her and would never abandon her. Her refusal to let anyone else convince her otherwise is quite affecting. I was completely invested in her search, and could not stop reading until she found "closure" (a word she hates but throws around so she can keep looking).
I'm running a giveaway of this book until Monday, August 27, so enter here if it sounds good to you. You can also watch Semple's funny, self-deprecating trailer below.
Nerd verdict: Look for Bernadette for a good read