I'm back to sampling openers of new books to see which ones I should read first. Because of busy stuff, I went about five days last week without reading for pleasure and was getting twitchy, so I had to pick up some books lest I look like a crack addict.
Based on their first paragraphs, these are the ones that look most promising.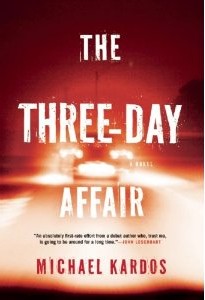 The Three-Day Affair by Michael Kardos (September 4, Mysterious Press)
PROLOGUE
Six years ago, my band's bassist was shot dead in a New York nightclub. Her name was Gwen Dalton, and she'd only been with the band a few months when she was killed.
Our original bassist, Andy, had surprised us all when he decided to move to Los Angeles with his girlfriend. We were annoyed that he would leave New York just when the band was finally creating a stir. High Noon had been together for five years, and we'd worked hard to build up a following. We were finally packing the Wetlands and CBGB, and a small indie record label was talking to us about recording a CD. So how can you leave us now? we asked him. How can you do that to us?
"I'm doing it for love," he explained.
And how do you argue with that?
Trust Your Eyes by Lindwood Barclay (September 4, New American Library)
PROLOGUE
It was just by chance he turned down Orchard Street and saw the window when he did. It easily could have been a week from now, or a month, even a year. But it turned out that this was going to be the day.
Sure, he would have wandered down here eventually. Sooner or later, when he got to a new city, he hit every street. He always started out intending to be methodical about it—follow one street from beginning to end, then head over a block and backtrack on a parallel street, like doing the aisles in a grocery store—but then he'd get to a cross street and something would catch his eye, and all good intentions would be abandoned.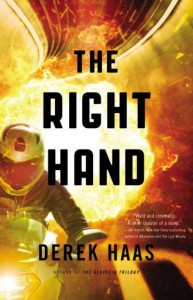 The Right Hand by Derek Haas (November 13, Mulholland Books)
PREFACE
He smelled wood burning, and also flesh, like a pig roasting on a spit, and only then did he realize he was on fire. The pain came next, searing and relentless, and it drew him out of unconsciousness like a hypnotist snapping his fingers. He jolted upright and rolled, tamping out the flames at least temporarily.
So, are you interested in reading any of these? Which one would you read first?
Happy Fridayyyy!