I still have to see many more awards contenders, but Silver Linings Playbook is an early favorite. It's laugh-out-loud funny, charming, moving, wacky, and…well, you'll have to see for yourself.
Bradley Cooper plays Pat, a bipolar former teacher newly released from a court-ordered stay at a psychiatric facility, eight months after an incident had made him turn violent. He moves back in with his parents (Robert De Niro and Jacki Weaver), determined to rebuild his life and win back his wife, Nikki, despite everyone telling him she's moved on.
He meets Tiffany (Jennifer Lawrence), whose cop husband recently died, and rumor has it she's dealing with her grief by turning into the town slut. Their lack of social skills and edit buttons make others wary, but the two form a tenuous bond that lead to surprising discoveries about themselves.
The biggest surprise for me was finding that Cooper could act. I've never been a fan because I've never been able to sympathize with any of his characters (this includes Will on Alias). Not only is he sympathetic here, he takes on mental illness, one of the two hardest conditions to portray convincingly—the other is drunkenness—because the inclination is to overdo it.
But Pat desperately wants to show how well he's coping post-treatment so Cooper suppresses the crazies, keeping his character grounded while allowing us to see that the cracks are right beneath the surface and could reappear any moment. Pat is not so much unhinged as someone who's passionate and idealistic and doesn't understand why the rest of the world doesn't feel the same way.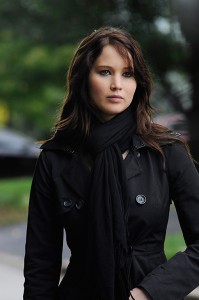 Lawrence is even more impressive as the only person who does understand Pat. She has never been more alluring and self-assured than she is here. She goes toe to toe with De Niro in one scene and comes out on top (it's written that way but still takes a skilled thespian to pull it off). She's not a girl but a woman on fire; this is a mature, full-blooded performance from a young actress who keeps getting better. I think a long career is ahead of her if she wants it, and an Oscar nomination is almost certain for this role.
In adapting Matthew Quick's novel, director-writer David O. Russell, a gifted but inconsistent auteur, has crafted his most mainstream, uplifting movie yet. Among its pleasures is its unpredictability. The story takes odd turns, making me ask at times, "Where is this going?" and "How did we get here?" The answer is by Russell throwing out the playbook of Hollywood cliches.
Nerd verdict: Silver Linings has a shot at Oscar gold
Photos: The Weinstein Company