I attended a Variety screening Monday night of Anna Karenina, and stayed afterward for the Q&A with director Joe Wright and Keira Knightley. It's the kind of movie that benefits from such a chat.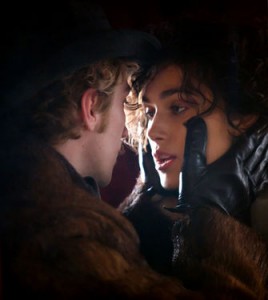 For the latest adaptation of Leo Tolstoy's novel about a married woman who falls in love with another man and is destroyed by her affair, Wright and company decided to take the highly stylized, theatrical route, placing many of the scenes on an actual stage with props and matte paintings in the background, revealed by velvet curtains. Everything is heightened, and how much you like it will depend on how willing you are to forgo realism. If you're a Baz Luhrmann fan, you'll probably love this.
I respect Wright for undertaking this bold experiment, and parts of it are engaging. Aaron Taylor-Johnson (Kick Ass) and Keira Knightley, in opulent costumes, have potent chemistry as Anna and Count Vronsky, making us yearn for them to be together almost as much as they do. Jude Law needed to be dumbed down quite a bit to play the dull, cuckholded Karenin, but his subtle performance is convincing and sympathetic.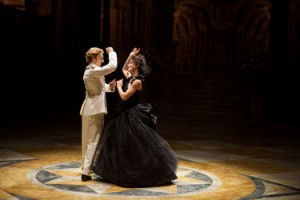 Wright is clever in using the stage setting to convey the idea of a much bigger space, and to transition between scenes. Anna goes from a ballroom to her home by simply climbing a set of stairs. She sits down in a chair in her drawing room, but parts the curtains and the scenery outside indicates she's on a moving train. Because of the stylization, punctuated by a rhythmic score, the actors' movements—Knightley's most of all—are precisely choreographed, but the cast makes the "dance" look like second nature, performing what Wright calls "a ballet with words."
The energy can't be sustained, though, and once the passion cools between Anna and Vronsky, I started to lose interest in the movie.
After the screening, the director explained that he was trying to get closer to "the expressive interior landscape of the characters" and felt he couldn't do it with realism. Setting most of the action on an actual stage seemed appropriate, since Russian society at the time "was performing their lives…they wanted to be French." The people spoke French, wore French fashion, so when Anna gets up in the morning, Wright shows her getting dressed like an actress about to step in front of the footlights.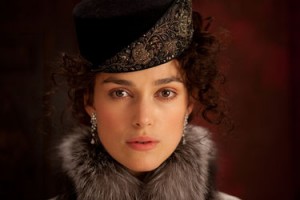 During the Q&A, Knightley came across smart, funny, articulate, and passionate in her defense of Anna. When the moderator asked how the actress approached playing a character some readers find loathsome, Knightley said, "I didn't like her. I loved her." She explained that she's in no position to judge a woman who's flawed by her humanity, who hurts those she loves most, because Knightley herself is sometimes guilty of such behavior. She added, "How can you not feel for a creature who's suffering?"
Wrights wrapped up the evening by admitting this movie is an experiment, saying "filmmakers have an obligation to experiment." It may not have been a complete success, but I appreciate Wright and his team giving the text a daring new interpretation.
Nerd verdict: A bold—if not entirely successful—experiment
Photos: Laurie Sparham/Focus Features