I'm getting ready to get on a bus to the airport, where I'll board a plane for the East Coast, where I'll rent a car to drive to my brother's place for the holidays. I haven't had any time to think about Christmas because I had to finish editing a manuscript before leaving, which meant locking myself in the den for the past ten days and waking up this morning thinking it's Wednesday because I'd lost track of time. If I could grow facial hair, I'd probably have a beard down to my navel right now.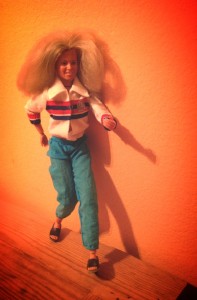 So I'm ill-prepared for the holidays, but to get in the spirit, I thought I'd share one of my favorite Christmas memories before I head out.
When I was a kid, I was a big fan of The Bionic Woman TV show. Jaime Sommers, as played by Lindsay Wagner, was an idol to me, a smart, strong woman who couldn't be messed with, who fought fembots and won (this last part was very important).
December 1976 or '77, for my family's second or third Christmas in America, my mother took us kids to the mall, said we could pick out our own presents as long as we stayed under ten dollars per person. (Our family is large, we were on a budget, and we'd stopped believing in Santa years earlier.)
Once out of the station wagon, I ran all the way to Kay-Bee Toys, muttering, "Oh please, oh please, oh please" hoping the Bionic Woman doll was in my price range. I squeezed between shoppers to get to the right shelf, where Jaime was waiting to—perhaps—be taken home by me. I stood on tiptoes to bring down the package, holding my breath as I looked at the price tag…$9.99!
I clutched my present and jumped up and down; my face almost cracked from smiling. If there had been room in the store, I might've done a cartwheel. I dug out my own change, from my allowance for doing chores around the house, to pay for the tax.
I cherished that doll, and created lots of adventures for Jaime to go on. I played with her until her hair and limbs started falling out. Then came a flood in the basement and lots of treasured childhood things were lost.
But the tale doesn't end there. Several years ago, my dear friend Christian, who knows this story, gave me a Christmas gift. I opened it and found an original Bionic Woman doll inside (pictured). He'd trolled eBay, determined to find a replacement for me. I told him she may have cost only ten bucks originally, but what he did for me was priceless.
Jaime now sits prominently on my mantel and amuses my visitors, who wonder if she's out of place up there among candles and wedding pictures and flowers. I say no. She's exactly where she should be.
Happy holidays to you. I hope you'll create memories to cherish for many years to come. Is there a favorite recollection you'd like to share in the comments?