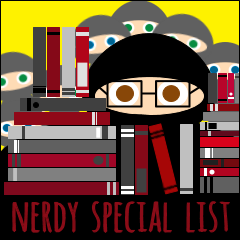 Here's what my blogging pals and I recommend this month, just in time for your holiday shopping!
From Jen at Jen's Book Thoughts:
Invisible (Bantam, Dec. 11) is Carla Buckley's sophomore novel, and like her debut, The Things That Keep Us Here, she leaves the reader with haunting thoughts about the science and technology surrounding us today. What if the technology that is supposed to create wonderful products, keep entire cities employed, and be sanctioned by the government is actually killing us? What if no one really wants to know the truth?

Buckley's writing style, her fully developed characters, and her well-researched subject matter combine to create a riveting plot that readers will have trouble tearing themselves away from.

Buy it from Amazon| Buy it from an indie bookstore
Danielle from There's a Book has two recommendations this time, the first a picture book, and the second a YA title:
Who wouldn't "loathe" two adorable, best-friend monsters? I Loathe You by David Slonim (Aladdin, Dec. 18) is a story about best friends who, despite many bumps in the road, are always there for each other. Through beautifully rhythmic text and often hilarious illustrations, Slonim has brought to life two characters that children and adults will adore. Our family has been laughing hysterically while reading the silly things monsters do as friends, and since this is our first introduction to David Slonim's work, we now know we'll be searching out more in the very near future.

Buy it from Amazon| Buy it from an indie bookstore

The Darkest Minds (Hyperion Books for Children, Dec. 18) is the second book by the remarkable Alexandra Bracken, and she proves that the sophomore slump can be broken. This is the first book in a new planned dystopian trilogy, in which children ages 10-13 suddenly become ill. If they are among the few who survive, they acquire an X-Men-like ability. Many readers might instantly turn and walk away from yet another dystopian trilogy, but they'd be missing out. Darkest Minds has everything—a brilliant lead character and equally powerful supporting characters, including a villain who will take your breath away. This is truly one of the best novels of the year.

Buy it from Amazon| Buy it from an indie bookstore
PCN's recommendation:
Jojo Moyes's Me Before You (Pamela Dorman Books, Dec. 31) ruined me for days after I finished it, making me hesitate to pick up another book for fear it wouldn't be as good as Moyes's. The novel is about Lou, an "ordinary" 26-year-old woman who takes a job caring for Will, a former alpha male and extreme sports enthusiast who was hit by a motorcycle and is now paralyzed from the neck down. Will has lost his love for life, and Lou is hired to help him find it again. Their burgeoning friendship is realistic and completely devoid of any corniness. Some of Moyes's scenes are achingly perfect, and the beauty of it all left me shattered.
But don't take my word for it; you can see for yourself. Viking/Pamela Dorman Books has generously offered me five copies to give away to five people. Enter by leaving a comment about a book that blew you away and ruined you for the ones that came right after. I'll take entries until Tuesday, Dec. 11, 9 p.m. PST. US addresses only, please. (Publishers Weekly, which gave this book a starred review, is sponsoring a Twitter chat with Jojo on Thursday, Dec. 6 at 1 p.m. EST. Join in by using the hashtag #JojoPW; you don't need to have read the book first.)
Note: Please don't enter the giveaway unless you can check back next week to see if you've won. I'll announce results on or around December 12, and winners will have 48 hours to claim the prizes. I'm behind in returning emails, so having to track down five winners for mailing addresses may not get done for a while, and I want you to have this book as soon as possible.