Wow, it's good to be back. If you visited this site over the past several days, you probably saw a "suspected malware" warning, which was extremely upsetting to me. I hired a company to scan the site, and the problem was my WP software and some other plug-ins and files were outdated. I don't always upgrade right away because sometimes the new versions are full of bugs (Apple Maps, anyone?), but I've updated everything, installed extra security plug-ins, and Google has removed the warning. It's important for me to make clear I'd NEVER knowingly install or host malware of any kind.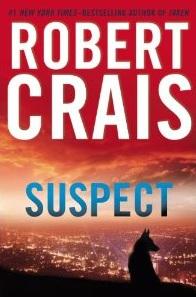 Anyway, on to some good stuff. Thanks to Lydia at Putnam, I get to give away an advance reading copy of Robert Crais's highly anticipated Suspect, which doesn't come out until January 22, 2013, but you can have the ARC before Christmas if you're good. And lucky.
This is a standalone featuring LAPD's Officer Scott James and his new partner Maggie, a former military working dog retrained for the K-9 platoon. They've both suffered on-the-job injuries—physical and emotional ones—and the deaths of their former partners. Together they track the killers of Scott's previous partner, and learn to trust and heal each other along the way.
I think you will fall in love with Maggie; she made me cry. Crais writes several chapters in Maggie's POV and, based on my former ownership of a German shepherd, her thoughts and actions seem spot on. The relationship between her and Scott is life-affirming.
For a chance to win the ARC, share an amazing dog story in the comments. Could be about your dog, someone else's, one you read about, or saw on YouTube. Let's make this a celebration of our four-legged friends. I'll take entries only until this Sunday, December 16 at 9 p.m. PST. US addresses only.
As with my other giveaway, please only enter if you can check back to see if you've won because I may not get around to contacting you by email. The winner will be randomly chosen, announced here on December 17, and have 48 hours to claim the ARC before I select someone else.
In related news, the Kindle version of L.A. Requiem, a game changer in Crais's Elvis Cole and Joe Pike series, is on sale for only $1.99. Don't know how long it'll stay at that price so grab it now.