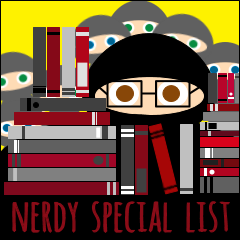 I went away for the holidays, but didn't intend to go undeground and disappear from my blog and social media for two weeks. It was a good thing, though. Unplugging allows me to just be in the moment instead of living out loud, and to recharge and observe and experience so I can have something to write about.
Among other things I did during my break, I had a readathon and finished 3 books in 2 days. Which brings me to the January Nerdy Special List. This month, Jen of Jen's Book Thoughts and I both recommend two titles, but there's one overlap so only 3 books are on the list.
Jen's selections:
Suspect by Robert Crais (Putnam, Jan. 22)

Robert Crais is a master at the theme of interpersonal relationships. His depth and detail make readers feel like a part of the relationships. In Suspect, that strong relationship occurs between man and dog. While Crais has created minor connections between man and animal in the Elvis Cole/Joe Pike series, now it's front and center. He delivers it with compassion and understanding. And oh yes, there's also a suspenseful crime. Suspect just took the gold in my book; it's now my favorite Crais novel. I'm hoping it goes from standalone status to regular series. It would be a shame for Scott and Maggie to bid adieu already.

Suspect is perfect for all those who say they haven't read Robert Crais yet—no backstory needed and it's a stunning display of his talent. Meanwhile Craisies will not be disappointed. Of course, we always enjoy our visits with Elvis and Joe, but you'll be willing to wait a little longer for the boys after you meet Scott and Maggie.

As a side note for my fellow audiobook fans, this book will also be available on audio January 22nd, narrated by MacLeod Andrews.
Buy Suspect from Amazon| Buy from an indie bookstore
Standing in Another Man's Grave by Ian Rankin (Reagan Arthur, Jan. 15)

Twenty-five years after the first appearance of John Rebus, Ian Rankin returns to his long-time protagonist, post-retirement from the CID. Now the inspector is working as a civilian, reviewing cold cases. Rebus uncovers an old case connected to a current one, and he's back in the thick of it again.

Despite this being the 18th novel featuring Rebus, it's the first one I've read and I was blown away. I don't know where I've been for 25 years. Rankin's beautiful language, rich characters, and complex plot make this a book nearly impossible to put down.Standing is a gorgeous tribute to Rankin's friend Jackie Leven, a Scottish musician who died of cancer in 2011. Rankin dedicates the book to him, opens each section with Leven song lyrics, and begins the whole book with Rebus at a funeral for a friend who died of cancer. In addition, the title is a mondegreen of Leven's song "Standing in Another Man's Rain." Rankin's play on the song title is one of the highlights of the book.

I've been missing out on Ian Rankin all these years. If you have been, too, I encourage you to pick up this book and see what you've been missing. If you've been in on the secret of Rankin's greatness all this time…why didn't you tell me?!?
Buy Standing from Amazon| Buy from an indie bookstore
PCN's recommendations:
I also recommend Suspect, but at the risk of seeming lazy redundant, I'll simply refer you to Jen's remarks above. Maggie broke my heart, and if I talk about it too much, I'll cry the ugly cry.
The other book I suggest you check out is Lisa O'Donnell's debut, The Death of Bees (HarperCollins, just released). First, let me share the prologue:
Eugene Doyle. Born 19 June 1972. Died 17 December 2010, aged thirty-eight.

Isabel Ann Macdonald. Born 24 May 1974. Died 18 December 2010, aged thirty-six.

Today is Christmas Eve. Today is my birthday. Today I am fifteen. Today I buried my parents in the backyard.

Neither of them were beloved.
Don't you want to read it just based on that?! Need more convincing? OK, fine. You're only saying that to make me work harder but here goes.
Bees is about two Glaswegian sisters, Marnie, 15, and Nelly, 12, who find their parents dead about a week before Christmas. They each suspect the other of killing their father—their mother hung herself—but decide to bury the bodies in the backyard instead of alerting authorities, out of fear they'd be taken into government care and separated. They start to arouse the suspicion of their lonely neighbor Lennie, who takes a paternal interest in them, but there's the inconvenient matter of his being a registered sex offender. The three form a sort of family, which is threatened by the girls' secret, the arrival of their grandfather looking for their mother, and the drug dealer who won't stop looking for their father, who owes the dealer money.
It's hard to categorize this book, and I love it when that happens. It's bleak and gruesome, but also funny in a pitch-black way, and contains some very moving scenes. The characters are flawed and prickly (Nelly inexplicably talks like Bette Davis), they lie and hurt each other. But they also heal and love and make great sacrifices, and my heart was in my throat while reading, hoping they'd beat all odds to find happiness.
Buy Bees from Amazon| Buy from an indie bookstore
What good books did you read over the holidays?