The following ran in Shelf Awareness: Daily Enlightenment for Readers last month as a starred review, and is reprinted here with permission.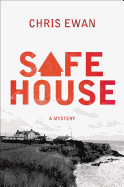 At the start of Chris Ewan's Safe House, Rob Hale wakes up in the hospital and receives good news: despite painful injuries after a motorcycle wipeout, he has no permanent damage. But when he asks about Lena, the beautiful woman who was with him, no one knows anything about her, claiming he was found alone. Some even question whether he's confused by his sister Laura's recent suicide.
Having hazy memories of Lena being taken away from the accident site by men in what looked like an ambulance, Rob goes searching for her, teaming up with Rebecca Lewis, the attractive private investigator his parents hired to look into Laura's activities before she drove her car off a cliff. The two race to save Lena's life, and end up also uncovering the truth about Laura's death.
Ewan, known for his Good Thief's Guide series, tackles a standalone this time, and Safe House shoots out of the gate like Rob on his motorbike. His everyman quality—the guy is recovering from injuries, so no over-the-top stunts for him—is the perfect anchor for a thriller that gets increasingly complex and dangerous as it unfurls. Rebecca picks up the slack by being scarily competent at handling bad guys and sticky situations. This woman is tough, and she keeps Rob and readers guessing about her true intentions for taking the case. The sympathetic characters, Isle of Man setting, plot twists and Ewan's propulsive prose should take readers on a ride that feels anything but safe.
Nerd verdict: Thrilling Safe