I didn't have much interest in watching A&E's Bates Motel (Mondays, 10 p.m.) until I started hearing lots of good buzz about it, so I sampled the first episode, titled "First You Dream, Then You Die." It was…disturbing, pervaded by a sense of ominousness. It tested the boundaries of TV violence but didn't cross the line, so I was able to watch it all the way through. OK, I covered me eyes once.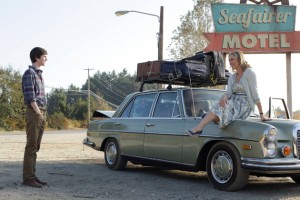 The show opens with 17-year-old Norman finding his father dead in the garage, with no explanation as to cause of death, and his mother, Norma, being not so surprised when he tells her the news. Six months later, the two relocate to a small town in Oregon called White Pine Bay, buying the foreclosed Seafairer Motel and the accompanying house on the property.
A man named Keith Summers pays them a visit, making his hostility clear, because the property has been in his family for generations. The next time he comes around, really bad things happen, and the Bates are forced to do desperate things, but Norma refuses to let anything get in the way of their new start on life and the success of the motel.
Oscar-nominated Vera Farmiga is a major get for this show. Her Norma is fragile, controlling, passive-aggressive, fierce, vulnerable, and loving, perhaps too much so with that last thing. It's easy to see how Norman could get seriously messed up with such a mom.
Freddie Highmore, whom I adored as a child actor, has his moments here, but is less convincing so far. He struggles with the American accent and his native British tones slip out often.
Though Norman is only a teen and his mother is still alive, the show takes place in present day. Norma drives a vintage Mercedes, and a teacher at Norman's school has a retro hairdo and wardrobe, but Norman and his schoolmates have iPhones, and a popular girl is named Bradley (wha?).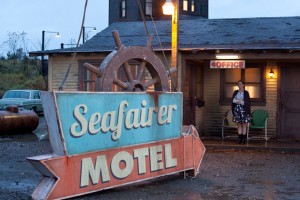 There are fun nods to Psycho, such as when Mom wears her hair in a bun and a cardigan draped over her shoulders. And there's a shot going up the staircase where Detective Arbogast (Martin Balsam) met his fate in Alfred Hitchcock's movie.
The famous motel and house have been reconstructed in Vancouver, and they look exactly like the old facades currently on the Universal Studios backlot (I was a tour guide there many moons ago and used to have to talk about that motel five days a week). We know where and how Norman ends up, but it might be interesting to see how he gets there, and get to know his mother before she got stuck in the cellar.
You can watch the entire first episode online here.
Need verdict: Unsettling Motel
Photos: A&E