I'm doing my taxes today so this will be a short post. Wanted to let you know about a couple of fun things you can vote for, if you feel so inclined.
The first is happening over at Elizabeth Gilbert's Facebook page, starting Thursday, March 21, 8 a.m. ET and going until Sunday night, March 24, 11:59 p.m. ET. Gilbert is the author of the massive bestseller Eat, Pray, Love, and she's asking the public to vote on the cover for her next book, a novel titled The Signature of All Things that Viking will release on October 1.
Gilbert says this process of cover selection has never been done in publishing, so why not express your opinion and see if your favorite cover wins? Vote here (you might need a Facebook account).
The other thing I've been submitting votes for this week is the Star Wars bracket tournament to determine the favorite character in that whole galaxy. Luke is being pitted against Yoda? Princess Leia going up against her own mother? I can't imagine anyone beating Han for the ultimate title, but hey, if I don't participate, who knows what could happen? Go here if you're interested.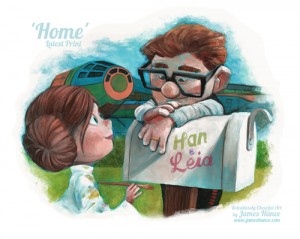 Speaking of Star Wars, I adore this mashup of Han and Leia with Carl and Ellie from the movie Up. Artist James Hance has this and many more wonderful prints at his website, appropriately called Relentlessly Cheerful Art. Also check out this series, in which Hance depicts young Han and baby Chewie as Christopher Robin and Pooh (the prints are no longer available). If I could afford it, I'd buy almost everything he offers.
That's it for now. Enjoy your Friday-adjacent day!