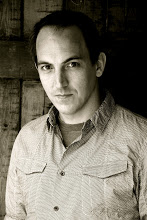 I've been meaning to put this up for a couple of weeks now, because I think y'all should have a little Eric Beetner in your lives. He's a gifted writer, funny man, and winner of last year's Stalker Award for Most Criminally Underrated Author. He also edited the Rodney Yee yoga video I bought 10 years ago.
Eric does these nifty 60-second video book reviews, with fast cuts and fancy angles, not to mention the cool posters in the background. But the best thing is his passion.
This review is for Joe R. Lansdale's Sunset & Sawdust. It's only 60 seconds—check it out! Then leave Eric a comment!