A friend of mine recently bemoaned her kids' resistance to reading despite her repeated attempts at instilling an interest. This conversation made me think about how I first got hooked.
Among my earliest memories are those of my family sitting together in the same room reading: my father with his newspaper, my mother grading essays for her job as a high school literary teacher, my older sister and brother poring over their school textbooks. They all looked so important and smart. I was about 4, not yet in school or literate, insanely jealous that everyone else could read, desperate to join the party.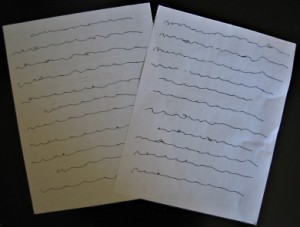 I'd take blank sheets of paper and draw squiggly lines on them to represent lines of print in a book if you're looking at it from far away. I'd sit on the couch with my papers and pretend to read my gibberish, even flipping the pages every now and then. My mother laughed when she finally caught on to what I was doing.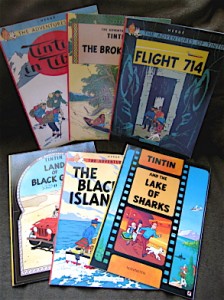 Shortly thereafter I started school, learned how to read and there was no turning back. The first books I remember reading were Hergé's Tintin adventures about the boy reporter and his globetrotting crime solving. Those books opened up my mind, made me want to grow up to be a reporter and travel the world (weirdly enough, I managed to accomplish both; the travel is ongoing). I then moved on to Nancy Drew in third grade, Encyclopedia Brown in fifth and Sherlock Holmes in the summer between sixth and seventh grade.
The pattern here is obvious: I enjoy problem solving. I love having my mind engaged by mysteries, using logical deduction to arrive at the solution, hopefully before the author reveals it. Every time this happens, there's a sense of satisfaction and confidence that maybe I can resolve most things in my life if armed with information and perseverance. The next time I put together an Ikea storage unit, I WILL figure it out. I solve fictional murders, dammit! I will not be cowed by a Swedish hutch!
But back to my friend and her problem with her non-reading kids. Based on my own experience, I could only suggest she designate reading time in her home every day, starting with maybe 15-20 minutes. That's what worked for me but of course this was about 100 years before video games, iPods and texting.
So, I thought I'd ask you: What made you want to read? Why do you read what you read? Any other Tintin fans out there?