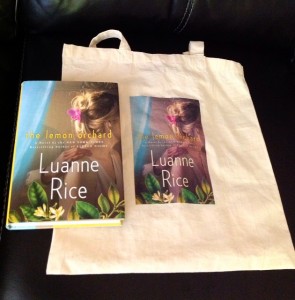 I'm excited to announce this giveaway, thanks to Pamela Dorman Books, of Luanne Rice's latest novel, plus a tote bag featuring the cover art. The description from the author's website:
In the five years since Julia last visited her aunt and uncle's home in Malibu, her life has been turned upside down by her daughter's death. She expects to find nothing more than peace and solitude as she house-sits with only her dog, Bonnie, for company. But she finds herself drawn to the handsome man who oversees the lemon orchard. Roberto expertly tends the trees, using the money to support his extended Mexican family. What connection could these two people share? The answer comes as Roberto reveals the heartbreaking story of his own loss—a pain Julia knows all too well, but for one striking difference: Roberto's daughter was lost but never found. And despite the odds, he cannot bear to give up hope.

Set in the sea and citrus-scented air of the breathtaking Santa Monica Mountains, The Lemon Orchard is an affirming story about the redemptive power of compassion and the kind of love that seems to find us when we need it most.
Mr. PCN used the tote at the grocery store, and received admiring comments from the ladies he encountered. I haven't finished the book so a review will have to come at a later time, but you can enter now for a chance to win this. Just leave a comment about something you believe in against all odds. Santa Claus? The Force? Why not?
I'll take entries until next Tuesday July 16, 9 p.m. PST. One winner will be randomly selected and have 48 hours after notification to claim prizes. US/Canada addresses only.
Good luck!