When I received Peter Stenson's debut novel, Fiend, in the mail, I thought the description sounded twisted good, but I was too scared to read it. It has zombies and is described as ultra violent. 
So I did the natural thing and asked Mr. PCN to read it, because he can watch The Walking Dead while eating dinner without getting sick. He was kind enough to be my guinea pig, and then write the following review.—PCN
***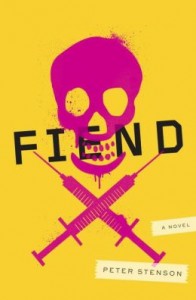 Peter Stenson has written an edgy, violent, sick-as-hell novel about drug addicts, zombies, and love.
Chase Daniels and Typewriter John are best friends addicted to crystal meth. During one of their usual three-day benders, Chase looks out the window and sees a cute, little girl playing with a dog. A Rottweiler. It's kind of sweet, but something isn't right. The dog looks scared. Before Chase can do anything, the little girl rips out the dog's throat and starts eating it.
From then on, Chase and Type are on the run, as they see how much the world has changed during the 72 hours they spent in their apartment getting high. Before long, they connect with KK, Jared, and The Albino to fight for their lives.
Yes, the story is about the walking dead and surviving against all odds, but the plot has unique twists that are very twisted. It made my skin crawl, had me scratching at things that don't itch, but the love Chase has for KK keeps this from being anything but the usual apocalyptic fare. Such is the power of exceptionally lean, always tense prose.
Stenson's pacing is fast; the events all take place during one week. Chapter titles are the days of the week, subchapters are times of the day, and there are no quotation marks to set off dialogue. There's no time; the characters are running for their lives and their next fix, which serves as a strong device to ratchet up the tension and adds to the bleakness of their existence. Some passages made me want to throw the book down in disgust, but I kept reading to see what would happen next. And then I cried when it was over.
Like an addict, I want more: more of this story, and more from this writer.