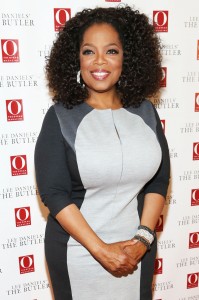 When I saw this article yesterday about Oprah being discriminated against in a Swiss shop, at first it was just something I glanced at…until I got to the store owner's response. It touched a nerve and brought back memories of something that happened to me in Germany years ago.
Oprah's experience was in Zurich, where a shop assistant apparently refused to show her a handbag and said it was "too expensive." Too expensive. For Oprah.
Oprah told Entertainment Tonight the clerk was racist. The owner said the incident was simply a misunderstanding, because "who wouldn't want to sell a purse for 35,000 francs?"
I don't know what happened in Oprah's situation, so I'll share something that happened to me. I was making a movie in Berlin, and on a day off, I went to a stationery shop to see if I could pick up some nice writing paper and cards so I could write home. This was before we all had e-mail, and costs for international calls were prohibitive.
When I entered the store, I noticed the woman behind the counter looked at me intensely, in a less-than-friendly way. I didn't think it had anything to do with me; that could've been her default face.
While I perused some stationery, the woman came up next to me and started straightening things on the shelf. Which was weird, because everything was already perfectly straight. Then when I put down a blank journal I'd been looking at, making sure I put it back exactly where I took it from, she picked it up and made a big show of putting it back "correctly"…right where and how I'd just placed it.
She repeated this a few times, "straightening" items I looked at as soon as I put them down, even though I replaced them as I found them. It was as if she was removing evidence that I'd touched those things.
After a while, she dropped all pretense of having a reason to stand next to me, and proceeded to follow me around the store, invading my space, openly glaring at me. She made me so uncomfortable, I finally left.
As soon as I stepped outside, she snatched the door and shut it quickly, like when you're trying to keep flies out. She stood on the other side of the glass door and looked at me until I walked away.
It didn't hit me until I was outside that I'd had a racist encounter. I don't go around thinking people are racist, and it's definitely not the first assumption I make when someone is unpleasant to me.
But as I stood there on the sidewalk, stunned, wondering what happened, I didn't know how else to explain this incident. I was dressed neatly like everyone else in the store (but was the only minority), I did nothing disruptive, and never said one word to the store clerk.
It seemed she decided the moment I entered, just by looking at me, that I was the wrong kind of clientele for her shop, and it wasn't even an upscale shop. It was an ordinary shop, like a Hallmark or Papyrus. At least Oprah was denied a really expensive bag. I was deemed not good enough for a ten-euro box of writing paper. And I did not misunderstand that.
[I want to be clear that I'm not saying all Germans are racist. I spent five weeks there, the crew was extremely nice, and I had a great time overall.]
Oprah ended up getting an apology from the Swiss tourism board. I don't want an apology, or pity. I just want people to stop being rude to others for no good reason at all.
Photo: Rob Kim/Getty Images