When I received the invitation to a screening of Austenland (limited release, Aug. 16), I didn't know much about it, other than it's a comedy starring Keri Russell as a Jane Austen super fan who goes to an "immersive Austen experience." I've never read Austen, but have enjoyed several of the movie adaptations from her work, and I'm a Russell fan. I'd also read this movie got great reviews after screening at Sundance earlier this year.

A few minutes into the film, based on the novel by Shannon Hale, imagine my joy when Jennifer Coolidge shows up, she of the insane improv (there are no opening credits so I squealed when I saw her). She plays another American who's traveling to Austenland, and meets Jane (Russell's character) at the airport when they arrive in England. Minutes later, Bret McKenzie, of Flight of the Conchords, appears as a driver to take them to their destination. I knew I was gonna have a good time.

The premise is that Jane is obsessed with all things Austen, especially Mr. Darcy, to the point it prevents her from being in a real relationship. She decides to spend her life savings on Austenland, a retreat with participants in full costume and actors playing different characters, to see if she can find her own Mr. Darcy. Everyone would observe 18th-century manners, with the experience ending in a ball.
It may sound genteel, but with Coolidge on the scene, you know there's going to be crazy stuff. Sure enough, she throws out one wacky line after another, and one had me and my husband laughing for long after the scene was over.
Russell is luminous, and I don't buy for one second that only gross or awkward men hit on her. I mean, look at her. Jane buys the economy "copper package" and therefore gets the plain gowns, as opposed to the more opulent ones given to the ladies who pay for more expensive packages. But the unadorned dresses do nothing to hide her natural radiance.
The supporting cast is all in on the fun, from Battlestar Galactica's James Callis as the actor hired to woo Coolidge's character during the retreat, to Ricky Whittle as a soap actor playing a dashing ship captain who finds every excuse to rip off his shirt, and Georgia King, as another Austen fan who takes Regency-era mannerisms a bit too far.
The discovery for me, though, was JJ Feild as Mr. Nobley, the Darcy-ish character. He does that slow burn from haughty to besotted effectively, making me dash home and look him up on IMDb to see what else he's done. Keep your eye on this one.
******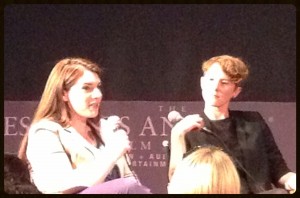 After the screening, there was a Q&A with director/screenwriter Jerusha Hess (cowriter of Napoleon Dynamite and Nacho Libre) and producer Stephenie Meyer. Yes, the Stephenie Meyer who wrote the Twilight books. This is Hess's first film as director, and Meyer's first film produced by her new company, Fickle Fish.
Both women were funny, smart, and self-deprecating, and below are a few interesting things I remember from the discussion. If it seems focused on Meyer and Twilight, that's because the moderator spent a lot of time on that before getting to Austenland.
Asked why Hess chose to adapt this book and direct this movie, she said she wanted to get away from gonads. She just did a movie with gonads in jars, she still has them, and they're leaking. (No, she did not explain why or where.)

Hess said Coolidge improvised a huge percentage of her lines, which made everyone very competitive in trying to one-up each other with their own improv (except Russell, who liked to stick to her scripted lines).
Meyer said while Paramount still had the option for the Twilight movies, they had odd ideas, including Bella packing heat, a vampire boat chase, and other elements that turned it into kind of a Vampire CSI. (Summit eventually made the movies.)
Meyer said she's a wimp about rejection, and sent out only 15 queries. If all 15 had resulted in rejections, she would've been done. Turned out, 9 were rejections, 4 didn't reply, and 1 person showed interest.
Asked if she'd ever consider writing a script, Meyer said, "I doubt I can write 120 pages and be done. I mean, I can write 120 pages and be like, 'Chapter 2.'"
Asked how she felt about E.L. James achieving great success with Fifty Shades of Grey, which started out as Twilight fan fiction, Meyer said she hasn't read the trilogy, but supports fan fiction, thinks it's great if someone's work can inspire others to write, as long as they eventually change it enough to make the work their own.
Someone in the audience said it's a great time to be female in the movie industry, with the success of movies like Bridesmaids. Meyer immediately said it's also a difficult time, because she read that women movie reviewers are getting rarer. It concerns her that the only critics seeing movies someday might be people who won't understand the world from the female point of view at all (that disturbs me, too).
Check out the trailer below, and see the movie if you want to laugh and swoon!
Photo: Sony Pictures Classics