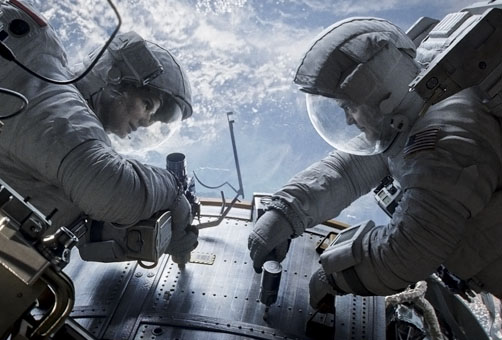 Movie awards season is finally here, which means the studios are holding screenings all over town, pushing their contenders for the Oscars and the plethora of other awards. This week I went to two screenings, the first being Alfonso Cuarón's Gravity (out Oct. 4), starring Sandra Bullock and George Clooney.
Within the first twenty minutes, it was clear to me I was watching a 2013 Best Picture nominee, if not the winner. Every once in a while, a movie comes along that makes me wide-eyed and agape, wondering, "How did they do that?" It's happened only a few times in my life, including when I watched Star Wars as a kid and Terminator 2: Judgment Day more than twenty years ago, with all that liquid metal and Robert Patrick's T-100 doing all the shape-shifting.
Gravity's story is simple: Dr. Ryan Stone (Bullock), a scientist, and astronaut Matt Kowalski (Clooney) are on a mission when something horrible happens, leaving them stranded in space. What follows is a 90-minute survival tale, an intense and emotional journey.
You know you're in for something seminal right at the beginning, with a long, unbroken shot of the glimmering surface of the Earth, as seen from 600 km above it. Then the space shuttle Explorer takes its time coming into frame, with Kowalski cruising around it on a jet pack. I find the 3D in most movies completely unnecessary, but in Gravity it's used beautifully.
I also don't care for IMAX, but recommend seeing this movie on the biggest screen possible to get the full immersive experience. Sometimes the POV is from inside Stone's helmet looking out, the sound would cut out, and you really get the sense of floating/spinning in space, which is at once hypnotic and terrifying. I almost cried several times from anxiety and frustration.
But all the artful cinematography and special effects wouldn't, well, have any weight without Bullock anchoring the movie. Her Dr. Stone is brave and ordinary at the same time, a somewhat regular person being thrown into the most extraordinary circumstances imaginable. Bullock has the difficult job of holding the screen alone for long stretches, but she makes it look easy and natural. Clooney brings his usual charm to the calm and experienced Kowalski, a good balance to Bullock's novice in space.
The movie may be labeled as sci-fi but I wouldn't call it that. There are no aliens, the story is about humans, and the technology on screen, as far as I could tell, mostly  already exists. What Cuarón and his collaborators achieved, however, is not something you've likely seen before.
Nerd verdict: Gravity has strong magnetic pull
Photo: Warner Bros.