October is here, which means Valentine's Day decorations should be going up soon. This year has flown! Hope you're enjoying the fall weather, though it's 87 degrees outside as I write this. I try to convince my body it's fall by eating pumpkin pie. So far it's not working, so I'd better eat another slice.
Meanwhile, here's what my blogger pals and I recommend for October.
From Jen at Jen's Book Thoughts:
The Double by George Pelecanos (Little, Brown, October 8)

In his follow-up to The Cut, George Pelecanos once again proves himself to be a master of the crime genre. Spero Lucas, an Iraq War Vet and a PI who takes cases people would rather were kept quiet, is in search of a missing piece of art. He stumbles into a ruthless trio of thieves and a restless married woman. One almost steals his life and the other his soul.

The Double is complex at every level: characters, relationships, themes, plot, psychology. The writing is dark and gritty. There are no white hats and black hats in Lucas's world. Instead there's ambiguity, flaws, and looming questions, with few if any answers. Humanity can be ugly and somehow Pelecanos makes that stunningly beautiful.
From Julie at Girls Just Reading:
Mortal Bonds by Michael Sears (Putnam, October 1)

Mortal Bonds begins shortly after the end of Sears's previous novel, Black Fridays. Jason Stafford is an ex-con with a knack for finding lost money, which is why the von Becker family hires him to find $3 billion. Of course, that amount of money is not going to be easy to find; it turns out there was a bit of money laundering going on. While some of the financial speak does go over my head, it's Jason and his inner circle that I love about the novels. The way Jason tries to connect with his son is something we all can learn from. While it's an action-packed novel, it's not all "run and gun"; there is some definite heart in this series.
From Rory at Fourth Street Review:
This House is Haunted by John Boyne (Other Press, October 8)

The newest novel from the author of The Boy in the Striped Pajamas is a classic Gothic Victorian ghost story. This House is Haunted is everything a ghost story should be. With its Dickensian prose, disappearing servants, crotchety groundskeeper, mysteriously absent owner, precocious children, wary townsfolk, dense fog, and howling wind, it's like a cross between Rebecca, Jane Eyre, and The Turn of the Screw. If there were a checklist of required elements for creating a "classic" ghost story, Boyne would have hit every single one. From characters paling as a result of distressing news to the mysterious attic inhabitant, Boyne walks a fine line between homage and parody with excellent results. From its opening line—"I blame Charles Dickens for the death of my father"—to its closing twist, it's pure Gothic fun. (Rory has a full review at her site.)
From PCN:
The October List (Grand Central, October 1)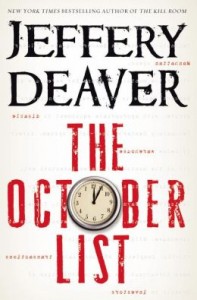 A perfect suggestion for the October Nerdy List, The October List is told backward, Memento-style, with the last chapter first, and every chapter afterward taking place a few minutes or hours earlier, as a woman waits for news from men who have gone to negotiate the release of her kidnapped daughter. After the first chapter, you might think, "How can this be the ending?" because it reads like a cliffhanger. But stay with the book, because it answers all the questions raised, while constantly challenging your perception of events. Some of the dialogue and sentences are a bit clunky, but the idea and execution are satisfyingly clever.
What are you looking forward to reading this month?