Happy February! I have a feeling I'll turn around and it'll be September before I know it. But in the meantime, I'll enjoy the shortest month of the year.
I'm happy to welcome a new contributor to our list, Florinda of The 3 R's Blog. Florinda is a veteran blogger (since 2007!), a fellow reviewer for Shelf Awareness for Readers, and ardent supporter of the list since its inception in 2012. Check out her site if you haven't already, and see her recommendation below.
Here are the February releases we really enjoyed.
From Jen at Jen's Book Thoughts:
The Stolen Ones by Richard Montanari (Mulholland Books, February 25)

Philadelphia detectives Kevin Byrne and Jessica Balzano are investigating a series of gruesome murders linked by their dump locations. All the victims are found in Priory Park. The investigation takes the police detectives back in time to the Delaware Valley State Hospital (for the criminally insane) and around the world to one of Europe's most atrocious serial killers.

The Stolen Ones has an intense, gripping plot that will keep you glued to the book but with all the lights on. It invokes the strongest elements of the thriller, the mystery, and the horror novel, so whether you enjoy plot, character, or scare-your-pants-off suspense, it delivers.

Byrne and Balzano are returning characters, but as a first-time Montanari reader, I found no problems understanding and fully appreciating the whole novel. This was indeed a standout read and will be the first to vie for a potential spot on my favorite books of 2014 list.
From Rory at Fourth Street Review:
Road to Reckoning by Robert Lautner (Touchstone, February 4)

While I have no doubt this novel will garner comparison to 

True Grit

,

Road to Reckoning

 is more than just a straightforward revenge quest. What begins as a story of a father and his son Thomas quickly becomes a story of murder, revenge, friendship, and the journey back to home. The novel is set against the history of Colt firearms and the way it, and industry, changed the West. It has a distinctive, engaging narrative voice and a meandering plot that never fails to entertain. While 

Road to Reckoning

 is a typical Western in the best sense, it has quiet moments of heart and reflection as well. Recommended for fans of good literary fiction and a must-read for Western enthusiasts. Overall, a very impressive debut. (Read Rory's full review

here

.)
From Florinda at The 3 R's Blog:
One More Thing: Stories and Other Stories by B.J. Novak (Knopf, February 4)

This is the first fiction collection by actor/writer B.J. Novak (The Office). These short pieces—some are very short, barely filing a page—don't feature recurring characters or common narrative threads, but they're united by a consistency in tone, similar worldview, and—perhaps not surprisingly, given Novak's background as a comedic writer and performer—a shared sense of humor. The writing is intelligent but doesn't feel like it's trying too hard to be clever, and I was struck by a touch of sweetness mixed into the funny. Quite frankly, I expected more snark, and I'm glad Novak confounded that expectation. I'm not generally a short-fiction fan, but this was "potato-chip reading"—I kept thinking I'd have just a few, but then I'd dig further and further into the bag.
From PCN:
Love Story, with Murders by Harry Bingham (Delacorte Press, February 18)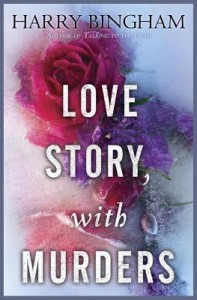 Fiona Griffiths, Harry Bingham's Welsh detective afflicted with Cotard's syndrome, finds a female leg in a recently deceased old woman's meat freezer. The leg seems to have been in there for at least five years. Fiona finds more body parts scattered around town, some belonging to another victim, a man recently murdered.
Don't be fooled by the flowery cover and title. The story is dark and the love story is a twisted crime-fiction version. The best reason to read this series is Fiona, whose rare condition makes her think she's dead and unable to feel some of her own body parts. She's gritty and constantly surprising, someone who embraces the threat of death because fearing death means she's still alive. She has moving epiphanies at unexpected moments, and made me grateful just to feel the beating of my heart.
Any of these sound good to you? What February books are you looking forward to? (See past lists here.)