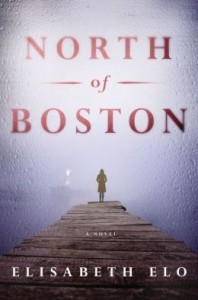 In crime fiction, the protagonists can start to resemble each other after a while: tough FBI agent or military guy or cop or private eye, etc. I'm not saying books can't be good with those types of characters—it all depends on the execution—only that every once in a while, it's nice to see a different type of protagonist, and that's who Pirio Kasparov is, in Elisabeth Elo's debut, North of Boston.
One foggy night, Pirio is on a lobster boat with her friend Ned when a huge ship comes out of nowhere, crashes into the little boat, and quickly sinks it. The ship moves on without stopping. Ned perishes but Pirio survives, for over four hours in frigid waters before she's rescued. She becomes somewhat of a local celebrity, and the US Navy wants her to submit to tests to determine how her body managed to stave off hypothermia when most people would've succumbed.
But Pirio, heir to a successful perfume business started by her Russian immigrant parents, only wants to find the ship that ran over Ned's lobster boat. She meets resistance from the Coast Guard and others telling her to just accept the accident as a hit-and-run.
Then she meets a mysterious man at Ned's memorial, someone who seems to want the truth as much as she does. Neither realizes how deadly the truth is, and how their attempt to see justice done will land them in deep waters, literally and figuratively.
Pirio is someone I took to right away, a woman who's smart, not touchy-feely, and blunt to her father and friends if she feels they need to hear the truth. Her one soft spot is for her ten-year-old godson, Noah, who also wants to know what happened to his father, Ned.
The prose is full of witty descriptions such as this:
Her dress is cream and pink, a boatneck, small stripes, and some kind of floppy belt. It looks as if it started out in the morning for a 1912 steamship, took a detour to a 1950s garden party in the suburbs, and ended up in a 2013 online catalog.
When Pirio is in the mysterious man's home, trying to figure out if he's a good or bad guy, she checks out his bookshelf and has this observation:
*Mild spoiler*
The environmental books are persuasive, but the book that makes the strongest case for his not-evil character is The Elements of Style. What bad guy would give a shit about the difference between which and that?
*End spoiler*
Can't argue with her there.
The story goes from the Boston area to more remote locales up the Labrador Coast in northern Canada, where the beauty of the land is contrasted by the danger Pirio is in and the ugliness of the bad people's actions.
The descriptions of the tests Pirio endures for the navy—for the sake of her country, she's told—are terrifying and hypnotic at the same time. I could easily visualize and imagine the mental and physical states Pirio goes through as she voluntarily freezes to the brink of death while the navy studies her. Did I mention this woman is tough?
The one false note for me was Pirio's repeated musings on love: how she wants it, how she's not sure if she's ever felt it, what true love feels like, whether or not she'll ever find it, etc. Her longing is clear and doesn't need to be reiterated so often.
But that's a small quibble, and I'd definitely sign up for Elo's next exotic adventure. The press materials accompanying my review copy said the author spent time last year in Siberia and that's partly where her next novel will be set.
If you'd like to read North of Boston, leave a comment and you'll be entered in a giveaway of one copy, courtesy of Viking Books. Answer this question: What's the most exotic or coldest place you've ever visited? (Comments who don't include an answer will be disqualified.)
Giveaway ends next Monday, February 17, 9 p.m. PST. One winner will be randomly selected and have 48 hours to claim the prize before an alternate winner is selected. US residents only, please.